Budget Cookery Group Menu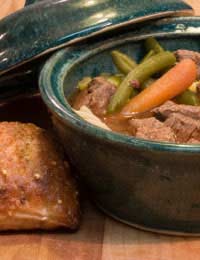 There's nothing wrong with a little innovation and experimentation to help feed the family; it can be very satisfying to create meals that don't cost a lot.
If there is a fruit and vegetable market near you, look for bargain foods that are in season. Select the freshest-looking, quality vegetables and don't be afraid to haggle!
The same applies to fresh fish and cheaper cuts of meat; buy locally and try out your bargaining power!Another way to grab food bargains is to buy reduced items from your local supermarket, but first check that they're worth buying and follow the storage instructions. (Some bargains, like bread, are particularly useful if you have a freezer.)
Beef Pot Roast
Brisket and topside are ideal joints for this method of cooking as they require slower cooking and are excellent value for money. Order in advance from your butcher and ask for the meat to be boned and rolled. (Or just grab it in the supermarket reduced section!)Allow 30 minutes per 450g + 30 minutes extra for boned joints, 20 minutes per 450g + 20 for meat on the bone.
Ingredients for Six
2kg rolled brisket
12 whole shallots or 2 onions chopped into chunks
1kg mixed root vegetables, such as carrots, swede, parsnip, turnip, potatoes (or bake potatoes separately in the oven.)
4 sticks of celery (if available)
1 small can chopped tomatoes with herbs
Salt and Pepper
Few drops of Worcestershire sauce
500ml Water
Method
Preheat oven to 150C.Heat a roasting tray on the hob and gently brown the joint all over. Remove meat.Add the peeled, chopped, mixed vegetables and fry in the meat fat for 2 minutes then remove roasting tray from heat.Place the meat on top of the vegetables and season with salt and pepper, Worcestershire sauce.
Add the canned tomatoes and about 500mls water.If you have a roasting dish with a lid, then use that, if not cover the roasting tray with cooking foil.Place in the oven and cook for 2 and a half to 3 hours, topping up the water if necessary to keep the vegetables covered by liquid.Remove from the oven and drain liquid into a pan. Bring to the boil and thicken with gravy granules.
Slice the meat and serve with the pot-roasted vegetables (and baked potatoes if preferred) fresh greens and thickened gravy.This is cheap, simple and very tasty!Leftover meat can be used cold, or whizz up all the leftovers together to make soup for the following day (add vegetable stock and seasoning as necessary.)
Spaghetti with Tuna and Parsley (Serves 4)
Pasta is another economical family ingredient that can be adapted to suit your pocket and store cupboard.
Ingredients
500g dried spaghetti
250mls olive oil
2 tablespoons butter
200g can tuna (or sardines in tomato sauce)
1 handful chopped fresh parsley
150mls crème fraiche or natural yoghurt
salt and pepper
Method
Cook the spaghetti as per instructions.When cooked but still firm, drain thoroughly and add the butter to coat it. Keep pasta warm.Flake the fish with a fork and blend or mash it with the parsley and olive oil. Season with salt and pepper.Pour in the crème fraiche or yoghurt and blend, or mash, with the fish and parsley.
Warm the spaghetti over medium heat.Add the tuna/parsley sauce and use 2 forks to mix it all together.Serve the food on warm plates with crusty bread and olives, if available.
You might also like...