New Year's Buffet Menu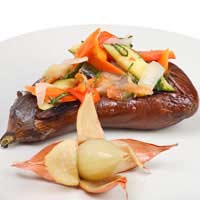 With a 'Good Fortune' theme, this New Year's menu is a warming, feel-good feast.
Planning and Serving
For New Year, why not plan a feast of warming dishes with a few lucky surprises? At Chinese New Year (which was in February last year), foods all symbolise fortune and health for the year ahead. So, take inspiration from their ideas and serve up Gold Coin Soup and Surprise Stuffed Lamb – followed by fresh coffee with homemade Pistachio Fortune Cookies!
To Start
Cater to everyone in the group with a low-fat, gluten-free, vegetarian starter. This soup is traditionally served on New Year's Day in Germany – hidden chunks of vegetarian frankfurter represent gold coins.
Golden Coin Soup
Begin by softening finely chopped vegetables to make a flavoursome soup base. Dice one onion, two carrots, one leek and a couple of pieces of celery in 1tbsp olive oil and stir in a pinch of turmeric to enhance the golden colour. Once softened, add garlic if you like (crushed). Stir in 4tbsp of red lentils (no need to pre-soak) and push them around with the vegetables for a moment. Now pour in 1 pint of vegetable stock and bring to a fast simmer, skim any froth off the top, and cover with a lid. Simmer gently now for 20 minutes – the lentils will swell and soften, making the soup thick and harmonious. In a separate pan, bring water to the boil and drop in four vegetarian frankfurters, boil for 2-3 minutes and remove. Slice into coins and drop into the soup just before serving. The amounts above will serve 4 people; multiply to suit your Cookery Group.
Golden Butter Rolls
For this, simply warm the required number of bread rolls in the oven. Meanwhile, beat 100g butter with 4 cloves crushed garlic and 2tbsp chopped chives or parsley. Twist it in clingfilm to form a sausage shape and put it into the freezer to chill. When almost ready to serve, slice the hot rolls almost right through and pop in a disc of flavoured butter before returning to a baking tray in the oven.
Main Courses
You'll need something for meat-eaters and a vegetarian option if anyone in your group doesn't eat meat.
Stuffed Shoulder of Lamb
The shoulder is a great cut for stuffing – spread the stuffing onto the boned side, roll up and tie with string before roasting. Try something sharp and fruity like cherry or apricot, something earthy with garlic and rosemary, or a Middle-Eastern-inspired concoction of coriander and pomegranate. The slices look wonderful on the platter, especially served with:
Rice and Peas
In South America, it's traditional to eat peas at New Year to increase your fortune over the following year! Their peas are usually the black-eyed variety, which – cooked in good vegetable stock and drained – make a tasty addition to plain basmati rice. If your main dishes suit it, cook the rice in coconut milk for extra creamy flavour.
Stuffed Aubergines
This is a great option for vegetarian group members, although the meat-eaters will devour any leftovers! Consult Claudia Roden for an authentic Lebanese recipe, which might include chickpeas, tomatoes and pomegranate molasses to create a sweet-and-sour filling for oven-roasted aubergines. In the Middle East, aubergines are revered.
To Finish...
The Chinese fortune cookie is made with a meringue-style biscuit base. The slips of paper are inserted after the cookies come out of the oven, so this is a task for the confident cook! Why not add finely-chopped pistachio to taste. You could also drizzle the finished cookies with white chocolate for a gourmet look!
COOKERY CIRCLE IS FOR SALE.
This website is for sale [more info].
You might also like...