Easter Cookery Group Menu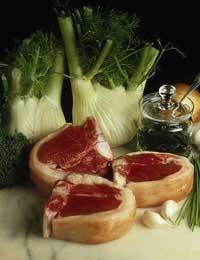 Birds are singing, trees are blossoming, and chocolate eggs are peeping out of the shrubbery – it must be Easter! This spring festival is a good reason to have a Cookery Group buffet. Here are some suggestions for an Easter lunch or dinner with your group.
The Table Centrepiece
It's Easter, so your buffet centrepiece has to be a joint of lamb. Choose leg or shoulder and roast long and low for best effect – the meat will be falling from the bones by the time it's ready. This tastes equally good hot or rested (warm), so it's a fairly relaxed centrepiece for your dinner. A joint of lamb can be flavoured however you please, according to the dishes being served alongside. What about trying a rose-scented Harissa rub, or roasting the joint on handfuls of freshly-picked garden herbs? That's the meat centrepiece sorted. But what about food for the Cookery Group vegetarians?
Don't Forget the Vegetarians
Vegetarians celebrate Easter too, of course. If you have a joint of lamb, make sure you have an alternative. First, start with a good Easter soup – like carrot soup, roasted root vegetable soup, or almond and paprika soup. This will keep everyone happy.
What to serve the vegetarians as a centrepiece on the table? Your choice will depend on the flavourings used in the roast. If you've used a spice rub, you could halve and roast butternut squashes which you've sprinkled with the same spices – then carve out the flesh and fill the cavity with pistachios, spiced squash flesh and feta cheese. If you've chosen a simple roast lamb, try making a Greek-style dish of Butter beans for your vegetarian guests. Stew soaked beans in olive oil, tomato puree, stock, and garlic, and oven-cook for a long time. Serve with olives and a Greek salad.
Scrumpcious Sides
Match your delicious springtime Lamb and Squash dishes with some springtime vegetables. Easter falls at different times each year, so you'll have to choose according to what's good at the grocer. If it's early, and the weather hasn't yet turned springlike, you could opt for a warming tray of roasted root vegetables. Include some baby leeks and squash if you can get them. A late Easter will allow you to steam asparagus bundles – serve with homemade hollandaise for dipping. Asparagus bundles can also be wrapped in parma ham and roasted, then topped with shards of parmesan to make a deliciously meaty side dish. Accompany the whole lot with bowls of fresh green salad for an Easter theme.
For Dessert? Get the Kids to Make Eggs…
If you're in a member's home or a venue with a convenient place for the kids, spread a trestle table with the ingredients for them to make their own Easter eggs. You could go the traditional route and have them painting egg-shells (remove the egg itself using a pin and straw), or you could let them loose with melted chocolate, moulds and sprinkles…
Buy moulds online (look for the specialist cookery and kids' baking stores) or on the high street, if your town has a Lakeland. Before any chocolate goes in, let the kids decorate the moulds with icing tubes, gold dust, nuts and dried fruit, or sprinkles. Melt a little chocolate at a time (get a double-boiler gently on the go) and let the kids brush layers into the moulds – setting aside to dry before applying the next layer (and the next, and the next, for extra-thick eggs!). Leave to dry thoroughly before turning out of the moulds.
While they're busy with the melted chocolate, the adults could have a truffle-rolling party! Make three basic ganaches – white, dark and milk – by melting chocolate with an equal weight of double cream. Allow to cool slightly before letting people roll them in the coatings of their choice (chopped chocolate coffee beans, finely chopped nuts, grated chocolate, dried coconut – the options are endless!)
You might also like...