Summer Cookery Group Menu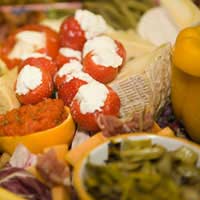 Ice creams on sticks and lemon-drenched fish: the foods of a British summer are worth celebrating. And a bring-a-bowl buffet can be a really fun occasion – a chance to sample your group's summer favourites in an informal setting. So find a venue, set the theme and prepare for a summer gathering with your Cookery Group.
A Plateless Feast
It's summer – and the last thing you want to do is stand over a hot sink washing dishes. So why not set your group a 'plateless' challenge – and serve up a feast of finger-foods? It's a great excuse to make miniature versions of all your summer favourites, from calamari to blackcurrant cheesecake.
Provide a big pile of napkins and think of new ways to dish up buffet favourites WITHOUT plates – wrap fish and chips in newspaper, stuff prawn cocktail into croustades, and skewer chunks of spicy chicken or salmon. As well as being fun to eat and clear away, finger-foods are mostly designed to be served cold. In all, this menu is ideal for a hot summer's day – pack it into baskets and take it to the beach, to your garden, or invade a nearby park!
Bites and Nibbles
Ask members to be imaginative, and turn your favourite dinner into a nibble. You could wrap roast beef with horseradish crème fraiche in miniature pancakes; turn fish and mushy peas into a fishy, pea-centred rissole; bake tiny bite-size pizzas; and take the chicken tikka from your favourite curry and skewer it on sticks with minty cucumber. If you do want to allocate dishes to the group, try some of these ideas:
Porcini Pate on Toast. You can buy crostini in packets from the supermarket: ready-baked, tiny breads that are perfect for finger-eating. Smear each with a teaspoon of wild mushroom pate and top with pea shoots to create a sophisticated vegetarian mouthful.
Crunchy Lamb Bites. Make a rich marinade for lamb and grill it to keep it tender; then shred the pieces and use them to top miniature poppadoms. Garnish the platter with finely chopped coriander.
Goat's Cheese Nibbles. If you can find a locally-made goat's cheese, you'll have the basis for a wide range of recipes. Wrap small pieces in rocket and parma ham or combine the cheese with olive oil, chives and garlic, then bake on puff-pastry squares and cool.

Asian Inspiration. There are many appealing finger-foods to be found in Asian cuisine. You could try making your own samosas from filo pastry, peas and potatoes; or buy spring roll wrappers from the supermarket and fill them with a mixture of rice noodles, spring onion, garlic and soy sauce. Prepare a satay (peanut) dip and serve alongside dishes of carrot and pepper batons, prawn crackers and poppy seed pastry twists.
Parmesan Thins. Sprinkle heaps of grated parmesan onto a baking tray and slide into a medium oven for 5-10 minutes, until golden; sprinkle immediately with poppy seeds and leave to cool and harden. Serve these on their own, or with Italian dips.
Lebanese Inspiration. In the Middle East, a range of dishes is brought out before main meals – mezze – and you can take inspiration for your own meal. Serve radishes and carrots with an aubergine-tahini dip; or cut flatbreads into fingers and brush with olive oil, cumin and salt before grilling. Make quick falafel by mixing a tub of hummus with a tin of chickpeas that you've mashed slightly, and add breadcrumbs until you can form the mixture into balls. Drizzle with oil and bake in a hot oven.
Sweet Things
Celebrate the abundance of British fruit with these summery sweets:
Chocolate Fruits. Keep these cool before serving. They're easy to make – just melt two bowls of chocolate (milk and white), and dip a selection of fresh berries, banana slices and mango chunks into them, before setting on parchment paper.
Mini Meringues. Blitz fresh raspberries with icing sugar (to taste) and press through a sieve. Blend half of this with whipped cream, to give a soft pink fluff – then fill miniature meringues with it. Drizzle the whole lot with the remaining coulis and serve with sprigs of mint.
Bite Sized Cheesecakes. Make miniature versions of your favourite cheesecake – lemon or lime, topped with raspberry or black cherry – by buttering muffin tins and baking for less than half of the usual time. Stuck for recipes? - Try Nigella Lawson or Nigel Slater.
Plum Jam Tarts. Use shortcrust pastry to line a tartlet tray with fluted circles, prick each one and bake briefly. Once cooled, fill the tarts with homemade jam – plum is good.
You might also like...