Meals for Five Pounds or Less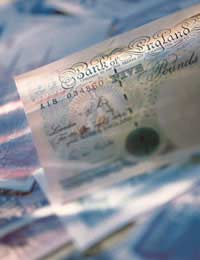 We're all trying to save money these days – by growing our own, baking our own and making our own. At home, a few key recipes are all you need to put cheap family meals on the table.
Ingredients to Keep Handy
You can make a family meal for £5 or less – but you'll need a few basic things in store to do it properly. Stock cubes, flour, yeast and olive oil are basics that will go a long, long way over a month or two. Butter and Trex will allow you to make a pastry case for a tart or pie. Rice and pasta will serve as a starchy accompaniment to almost anything.
Pastry-making is an excellent skill to brush up on. You can put almost anything into a tart case, covered with eggs beaten with a splash of milk, and sprinkled with cheese. And if you've never baked your own bread, that's another place to start saving money. Don't be afraid of yeast – try our simple pizza base recipe below and you can enjoy luxurious Italian-style pizza for a fraction of the cost.
Sausages in Cider
1 onion, diced (25p)
300g carrots, chopped (25p)
8 Pork Sausages (£2.00)
200ml Cider (80p)
1tbsp chopped fresh sage or 1tsp dried (80p)
4 baking potatoes, scrubbed (80p)
Put the baking potatoes into the oven at 180 degrees C for half an hour while you prepare the casserole. Soften the chopped onion in a little olive oil, while the sausages are grilling. Add the carrots to the casserole and cover to sweat the vegetables a little. Sprinkle in 1tbsp plain flour and the sage and stir for another two minutes.
Now pour in a little of the cider, stirring to make a smooth sauce. Chop the sausages roughly and add them to the pot. Add the rest of the cider and top up, if needed, with good stock. Put into the oven with the potatoes and turn down the heat to 140 degrees C for 30 minutes. Taste for seasoning. Serve with potatoes.
Making Pizza Dough
Pizza dough is so cheap – about 30p in total – that you can afford to spend a little more on delicious toppings! Try experimenting with different types of cheese like feta and fontina, or simply use up the leftover cheeses in your fridge. A jar of good tomato sauce (for pasta) is a perfect base.
For one pizza: Weigh and sift 6oz plain or strong white flour. Add 1tsp coarse salt and 1 tsp yeast, 1 ½ tbsp caster sugar, and stir together. Make a well and tip in 2tbsp olive oil and 100ml warm water. Stir gently together, then use your hands to form a soft dough. Knead for 10 minutes, then rest for 2 hours. Return to the dough and roll it out thinly.
Put it gently onto a floured baking tray, cover it with a warm tea-towel (dampen with hot water if necessary), and put it in the cold oven while you prepare the toppings – giving the dough another 30 minutes at this stage will allow it to puff up a little more. Preheat your oven to 200 degrees C, removing the pizza base, and top your pizza with a thin layer of prepared tomato sauce, followed by:
2 chopped onions (slowly caramelised with a pinch of sugar in olive oil) and 1 log goat's cheese, crumbled.
packet Baby Spinach Leaves, topped with lumps of ricotta and slices of mozzarella.
Frozen sweetcorn, chunks of pineapple from a tin, and shredded ham
You might also like...
Cool, but, I'm looking for snacks, not meals, that you don't use an oven for (ours is broken). (but Microwaves are fine)
Millie
- 20-Sep-11 @ 4:51 PM