Make One Freeze One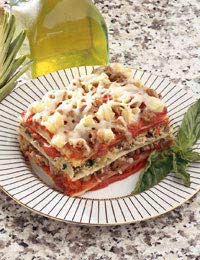 Looking for new ideas for family meals? Invest an hour of your time this weekend to cook a batch of rich Beef Ragu. Freeze it in portions, then use our ideas to turn it into three family meals to enjoy this month. It's easy on the cook, and even easier on the budget!
Stretching Ingredients Further
There are some ingredients – butternut squash, lentils, roast chicken, and mince – that have so much potential, they can be turned into two meals for the price of one. Squash or pumpkin, for instance, offers sweet, roasted flesh and crunchy snacking seeds. Just one scoop of lentils will swell and absorb cooking flavours, providing bulk and nutrition to any dish.
And mince is another budget-friendly ingredient. Here is a great basic recipe that you can make in bulk and freeze to make meals on another day in the month. Does your family complain about having the same thing twice? Our recipe for Beef Ragu that can become cannelloni, lasagne, or a beefy chilli – with just a couple of store-cupboard ingredients.
Beef Ragu... Lasagne... and Chilli!
Cooking a huge batch of beef ragu is a great investment. Beef mince goes a long way, so you can afford to choose a quality, organic pack. A short simmer on the hob and your ragu is ready to be frozen. Once thawed, it's amazingly versatile – stuff it into cannelloni tubes, spread it in a spinachy lasagne, or transform it into spicy chilli with just two ingredients. Here is the basic recipe, with three interesting variations for the thawed supplies.
1: The Blueprint Recipe
A good beef ragu requires time, patience, and good ingredients. This recipe makes enough for three batches to serve two people – for four people, double it.
First, warm 1tbsp olive oil in a large casserole or pan and brown 500g mince, gently, then remove it to a plate. In the same pan, now put 2 onions, finely chopped. Let them soften very slowly for 20 minutes – without browning. This leisurely cooking gives them a sweet, deep flavour.
Now stir in 4 carrots, finely diced, and 1 leek, finely diced. Continue to stir and soften for another 5 minutes before adding 1tbsp plain flour and stirring to incorporate it. Add 2tbsp tomato puree and stir for another couple of minutes.
Return the beef mince to the pan at this point. Now slowly pour in 1 cup of milk and simmer until it's almost all evaporated. Add 1 cup of red wine and do likewise; finally, add 1 tin chopped tomatoes and 1 cup beef stock, put on the lid, and simmer gently for an hour, until the sauce is rich and thick. Cool before dividing into 3 portions, bagging, labelling, and freezing.
2: The Variations
Spinach Lasagne. Combine 1 tub Creme Fraiche with 4tbsp Parmesan Cheese (grated). Blanch 1 pack of baby spinach and chop it roughly. Stir the spinach into the crème fraiche. Now layer your thawed Beef Ragu with ready-to-cook lasagne sheets and the spinach mixture, finishing with plenty of grated cheese (and mozzarella if liked). Bake in a medium oven for 30-40 minutes or until piping hot right through.
Even Easier Beef Cannelloni: Thaw the sauce in its plastic bag. Snip off one corner and pipe the sauce into ready-to-cook cannelloni tubes. Arrange in a baking dish and cover with ready-made béchamel. Bake 30 minutes, or until golden and piping hot right through, in a medium oven.
Spicy Beef Chilli: Tip your Ragu into a saucepan, adding 1 tin of mixed beans in chilli sauce and a generous splash of Tabasco sauce. Serve with boiled rice, crème fraiche, and lime wedges if liked.
You might also like...