Making Bread From Scratch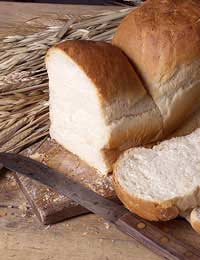 Baking your own bread is a great way to stretch the budget. Don't be put off by the complexity of bread baking: once you've got the basics, you'll be able to make a loaf in an evening. Short on time as well as budget? Why not look at a bread machine, or check out our recommended recipe that requires no kneading whatsoever.
Ingredients for Bread
Bread is a truly simple food. It's made from four basic ingredients: flour, yeast, salt, and water. You will see recipes that also contain sugar (to speed up the yeast's action) and oil or butter (to improve the keeping quality of the bread). But tradition dictates the use of only four ingredients. Here's how they work:
FLOUR. It is important to start with strong white bread flour – not plain white flour – because this gives a higher gluten content and a lighter loaf.
YEAST. Obviously, this is responsible for the rise of your loaf. Yeast feeds on natural sugars (present in flour's starch molecules) to produce carbon dioxide. This natural gas gives bread its fluffy, holey quality. You can use fresh, dried or instant yeast in your baking – read the instructions on the package to see how to use it. Dried instant yeast is easy to incorporate in a bread machine dough, or the No-Knead recipe (information below).
SALT. This has three jobs: to inhibit fermentation (which sounds odd, but a little slow-down allows the flour gluten to stretch slowly, giving a stable structure at the end), to improve keeping, and to improve the taste. Most bread recipes give the amount for table salt; if you are substituting coarse or sea salt, use a bit more, because it contains less sodium.
WATER. Of course, water binds the dough together. Use lukewarm water, or mix half fresh-boiled and half cold water in a cup. If your water is too hot, the yeast's action will be inhibited or stopped.
Bread Machines
If baking your own bread sounds like a chore – but you'd still like to save on your food budget – consider investing a little in a Bread Machine.
A good model costs around £90. How will that help your budget? Because once you've paid for the initial outlay, you can make a loaf for 40p or less. Choose a machine that has the options you need – for instance, would you prefer wholemeal bread? Do you intend to use it to bake loaves or prepare dough for rolls, biscuits or pizza? Would you like a 'cake' option too? Most good machines feature timers, so you can put in the ingredients and set the time you'd like the bread to be ready. Your machine will probably also arrive with a handbook of basic recipes to get you started. It's as easy as that!
The Legendary No-Knead Bread
If you'd like to have a go at baking your own bread, you're not sure about kneading and you don't want to invest in a machine... you simply must try the revolutionary No Knead Bread. When it was published in the New York Times in 2005, Jim Lahey's recipe sent ripples through the baking world. It's a recipe for a low-yeast, high-water, long-rise dough that doesn't need to be kneaded. Instead, the ingredients are combined and left to rest for 12 hours, then shaped into a loaf and left again for another 2. The key, perhaps, is baking the loaf in a very hot oven, in a pot with a lid – conditions designed to replicate a hot, humid bakery oven. The result will be a real delight. Google for Jim Lahey and you'll find his recipe and instructional video.
You might also like...