Ideas for Using Up Leftovers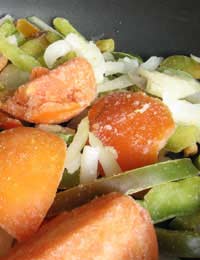 Using up leftovers. Everyone is talking about it – from supermarkets to magazines, from foodies to fanatics. The government estimates that British households bin 6.7 million tonnes of food every year, including 220,000 loaves of bread and 660,000 eggs.
Using up these leftovers won't just save food – it'll also save our budgets. Here are some tips on leftover cookery, plus ideas for using those unwanted eggs sitting in your larder.
Ready, Steady, Cook!
First, some basic tips. Stock your kitchen shelves with a couple of classic cookery books that will help you to create family meals from leftover scraps. Old-fashioned cooks like Delia and Margurite Paten included leftover recipes as a matter of course. The topic has also been revisited recently: The Kitchen Revolution (Sykes, Russell, and Heron) provides recipes for family meals followed by detailed instructions on making meals from the leftovers.
Second, when did you last sort through your store-cupboard? Keeping it stocked is a great way to stretch your budget: many store-cupboard ingredients provide a cheap and nutritious way to bulk out fresh leftovers.
For example, Delia offers a great recipe for Egg and Lentil Curry that can be rustled up using lentils and spices which will keep for a year in your cupboard. Tinned tomatoes are very useful for making ragu sauce from leftover cooked meat.
Keep some coconut milk and fish sauce for making a substantial broth with leftover seafood, sweetcorn, broccoli or shredded cooked chicken. A good selection of spices will be useful again and again.
Turning Leftovers into Family Meals
According to the government, we are throwing out eggs in their thousands. Take a look in your fridge – that carton of eggs can be turned into a cheap and healthy meal. Our meal ideas below will definitely help stretch the food budget.
Potato Tortilla for 2: Fry a chopped onion and a cup-full of diced, cooked potato in an oiled pan. Beat 4 eggs with a splash of milk and some grated cheese, if you have any.
Season the eggs well with lots of salt and pepper, and pour over the golden onion and potato. Don't stir – let the tortilla cook for 10 minutes over a medium heat, then pop it under the grill to finish. Make it different: Tortilla can be made with almost any vegetables, such as strips of pepper, small florets of broccoli or leftover green beans (add with the eggs). Add paprika, fresh chives or goat's cheese to change the flavours.
Vegetable hash with Poached eggs: Vegetable hash is a fancy way of saying 'fried leftovers'. Use a selection of potatoes, sweetcorn, mushrooms, sweet potatoes, cubed squash, tomatoes, peppers, and any other leftover veg that is available.
Most of these will need to be parboiled first, because they're just heated and crisped in the pan. You needn't use much fat at all – choose a non-stick pan, warm 1tbsp of olive oil, and stir the vegetables over a high heat until golden and crusty in places. Season generously. Tip onto warm plates and top with poached eggs (or grated cheese) to make a well-balanced meal.
Egg mayonnaise with jacket potatoes: Egg Mayonnaise is an old favourite that deserves a revival! Choose good eggs and high-quality mayonnaise, and this is a delicious topping for sandwiches or potatoes.
Eggs are high in vitamins in protein – but people with cholesterol concerns are advised not to eat too many each week. Once they're a few days old, eggs become perfect for hard-boiling (and they can then be stuffed and served as appetisers or Scotch eggs too). Put your eggs in a saucepan, cover with cold water, then bring to the boil. As soon as bubbles appear on the surface of the water, time 7 minutes, then remove the eggs. Peel, chop, and mix with seasoned mayonnaise.
You might also like...