Budget Dinner Party Dishes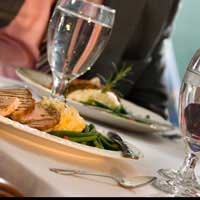 A dinner party on a budget? This could be a recipe for disaster. But, with a few clever tricks and a little insider knowledge, you'll be able to pull it off. Here are recipes and ideas for making your money go further and giving your dinner party guests a great time.
Choosing Cheap Cuts and Ingredients
The best way to stretch your budget is to work with cheap ingredients. Start with the cheapest seasonal vegetables, and build your meal around those. If you're serving meat, choose a cheaper cut and cook it slowly to extract the best flavour and texture.
Fancy serving up some beef? Look for chuck, brisket or skirt of beef. Tell your butcher what you want to do with it and he'll probably be able to recommend the best-value cut for your meal. Cheaper cuts of beef demand slow cooking: try making a stew with red wine, or cook up a traditional Pot Roast.
If you're putting lamb on the menu, take a look at one of the underrated cuts. Shoulder of lamb is a good value choice. You can buy a whole shoulder for around £15 from the butcher, and this will provide enough for 4-6 people with leftovers. (The bone should be simmered in water afterwards to make rich lamb stock.) Rub with olive oil and season, then roast the shoulder in a medium oven for 2-3 hours to get a juicy, falling-apart result. Lamb cooked in this way can be eaten with a spoon. It would be nicely accompanied by a dish of creamy haricot beans stewed in olive oil, tomatoes and water.
Just because vegetarians eat them, don't overlook lentils. The small, green lentils maintain their texture beautifully so they work well in a salad, or can be used to bulk up meat mince (and, once they're cooked in beef stock, the lentils will be barely discernible in the finished Ragu or Lasagne).
Grains such as couscous, barley and rice can become delicious (and very cheap) side dishes. Don't just boil them – be more imaginative, and blend them with spicy dressing or cook them slowly with some peas to make a rich Pilaf.
Cheap Drink Options
Aside from brewing your own Pea Pod Burgundy, it can be difficult to come up with budget-friendly drink ideas – especially if you're catering for a crowd of hard drinkers! Here are ideas for making bottles go further:
Flavour your own Gin: This is an idea that we have tested with frozen cranberries for Christmas. You do need to plan this drink in advance, but a 75cl bottle of cheap gin (around £7) will give you almost 2 litres of flavoured 'punch'.
Making Cava go further: It's easy to make a bottle of Cava go twice as far – and as a bonus, you'll disguise the taste of cheap stuff. Just splosh fresh orange, pomegranate or cranberry juice (and you needn't have squeezed these, but choose good quality cartons) into the bottom of each champagne glass before your guests arrive. Voila – homemade Buck's Fizz or Pink Cava!
Make your own Coffee Liqueur: You will need some MONIN coffee syrup for this after-dinner liqueur (swap it for chocolate syrup for a sweeter taste). Blend 100ml of syrup with 300ml single cream, 100ml milk, and 200ml whisky. Taste and adjust to your liking (we haven't tested this recipe – it was on a handwritten note inside a wine book!)
COOKERY CIRCLE IS FOR SALE.
This website is for sale [more info].
You might also like...