Cooking and Freezing in Bulk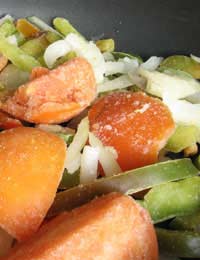 What do you think of when someone mentions cooking in bulk? Hundreds of prettily-decorated fairy cakes, enormous dishes of tasty lasagne or a tray full of crusty loaves? And does the thought of having to prepare that quantity frighten you?
Well, we're here to show you that bulk-cooking needn't be over-whelming and that there are loads of benefits to be gained from it. So let's start with …
Why?
There are plenty of good reasons for cooking in bulk.
You can save money:
Take advantage of special offers - 3 for the price of 2, buy 1 get 1 free and so on.
Larger quantities, especially of meat, are usually proportionally cheaper.
Instead of popping round to the takeaway or the corner shop for a meal in a hurry -when you're tired or it's late - you'll have a meal ready to take out of the freezer;
It costs no more to have two casseroles in the oven than it does to have one.
Time management is easier:
One big 'shop' takes less time than frequent visits;
Whether you're making one casserole or two, the amount of washing-up stays more or less the same and is done in one go;
Coming home from work after a busy day you don't have the stress of preparing a complete meal for the family from scratch. You'll have the main course; you'll only need to add vegetables or salad.
How
How you go about cooking in bulk really depends on you, your lifestyle and your preferences. There are two main methods:
If you can think of nothing better than spending a day cooking then do just that. Allow yourself a day, maybe once a month, in the kitchen preparing the bases for a variety of dishes;
If you don't have the time or the inclination to do that but still like the idea of home-cooked ready-meals in the freezer, then each time you're preparing a meal that can be frozen, double the quantities and freeze half.
What's Good to Cook for Freezing?
Just some of the things you can freeze: casseroles, meatballs, lasagne, Bolognese sauce, chilli, stew, soups, pizza crust, cooked beans (if you're going to the bother of soaking and cooking beans, make sure you do at least twice as many as you need), curry, fish mousse, kedgeree, uncooked pies, cakes (don't spread sponge cakes with jam before freezing), scones, fruit cakes. Some vegetables, such as onions or peppers can be prepared and frozen raw.
Make sure any food you freeze is well-wrapped to prevent freezer burn that will take the taste out of the food.
Tips for Freezing
Cool the food quickly after cooking.
Don't put warm food in the freezer.
Don't overfill the freezer: air needs to be able to move around.
Use good-quality freezer bags.
Label all your containers with details of what's inside and the date of freezing. You might like to add re-heating instructions too.
If you're a very organised person you'll want to keep a record of what's in the freezer and the eat-by dates, crossing meals off and adding new ones as you go along.
Involve Others
Get together with a group of friends and swap dishes: most people have one dish that they're particularly good at. So if a friend compliments you on your chicken curry while you'd love to make a lasagne like she does, double up on cooking and swap. That way you'll have two meals but won't be bored!
Give food away! Do you have an elderly neighbour, a sick parent, an exhausted friend? With a supply of meals in your freezer you can be the perfect neighbour/child/friend with very little effort!
It really needn't take very much extra time and once you get into the habit of looking out for what's on offer and doubling up on your dishes, you'll wonder why you didn't bulk cook before!
You might also like...
Many thanks for your response, that is extremely helpful even if a little complicated. I have printed this article and will pass it on to other family members.
Iain beg McAndrew
- 6-Mar-15 @ 12:06 AM
@ Iain beg McAndrew - I think Delia refers to a 'buttery kedgeree' which isn't suitable for freezing because it is too oily. I have included the link to one of our partner articles: Storing and Freezing Leftover Rice
here
. I hope this helps answer your question.
CookeryCircle
- 5-Mar-15 @ 1:55 PM
You say that kedgeree is suitable for freezing, Delia says that it is not. As I am preparing a buffet for some 20 and wish to pre-prepare and freeze several dishes it would be helpful to know the definitive answer (if definitive is possible!).
Iain beg McAndrew
- 4-Mar-15 @ 4:28 PM