Nutrition and Vitamins When Cooking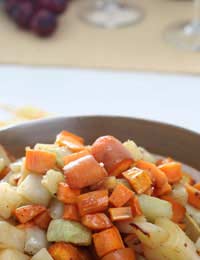 How do you make sure your family is getting a balanced diet? This Parents' Cookery Group topic covers the nutrition basics to help parents to plan a healthy eating regime. Elect one member to present the topic including notes for everyone to take home. Once you have a list of essential nutrients it's easy to customise it to your family's liking and use it to inspire your week's meals.
Running the Session
If you're launching a Parents' Cookery Group, nutrition and vitamins is a good place to start. Before any parent can plan a diet for their family, they have to know what to include – and what to avoid. To add to the complications, toddlers and teenagers have completely different nutrition requirements. The idea of this session is to give each parent the basis for a 'nutrition chart'. At the end of the meeting, parents can go home and ask their children to turn their notes into a colourful wall chart to keep in the kitchen.
What to Cover
The group leader should use this meeting to cover the essential vitamins and minerals (below), and (if relevant) specific guidelines for pregnant mums, young toddlers, and teenagers. Although many of us are familiar with the basic vitamins and minerals that we need, planning meals that balance all of the elements is a difficult job. This topic should help.
Essential Vitamins
Start by talking about essential vitamins. This list will help you to make a start. Next to each vitamin are good examples of its sources. Research online to find more examples, so that members of your group can take home your notes, choose foods that their family will eat, and build a customised chart. You'll see as you make your notes that some foods come up time and time again, like eggs – these are super-rich in nutrients, so they're obviously extremely handy when you're trying to plan a fast, healthy dinner!
Vitamin A – Mackerel, yoghurt, eggs, and sweet potatoes.
Vitamin D – sunshine! Also found in some margarines.
Vitamin E – olive oil, avocados, and pumpkin seeds.
Vitamin K – cheese, broccoli and spinach.
Vitamin B6 – Turkey, cod, soya beans, peanuts and potatoes.
Vitamin B12 – Salmon, cheese, eggs, and Marmite.
Vitamin C – strawberries, orange juice, peppers and potatoes.
Biotin – eggs, fish, and raisins.
Folic acid – Sprouts, broccoli, hummus, and oranges.
Niacin – beef, pork, wholewheat cereals, eggs and milk.
Pantothenic acid – chicken, tomatoes, eggs and broccoli.
Riboflavin (B2) – milk, eggs, rice and mushrooms.
Thiamine (B1) – pork sausages, cheese, peas, brown bread.
Essential Minerals
Time to move on to the hard stuff. Although our bodies need small amounts of all kinds of minerals, these are the really important ones:
Calcium – Milk (including skimmed), cheese, cabbage, and tofu.
Iron – Beef, nuts, dried fruit, and kale.
Magnesium – Spinach, nuts, and fish.
Phosphorus – Beef, chicken, rice and oats.
Potassium– Bananas, kidney beans, sunflower seeds, and milk.
Vitamins in Practice
When you've gone through the essential nutrients, why not take suggestions for recipes and lunches that incorporate some of the 'useful' foods? Write your group's ideas on a flip-chart or your own notebook, so that you can hand them out at the next meeting. If you've thought of any in advance, you could even bring a plate for tasting – how about apricot flapjacks or spanakopita?
Advice for Toddlers and Teens
The Food Standards Agency offers plenty of information on its EatWell website. Use this as the basis for your presentation at Cookery Group. Much of it will be familiar to parents but did you know, for example, that toddlers don't digest wholemeal bread as easily as older children? A toddler needs plenty of dairy and protein foods, while a teenage girl needs twice as much iron as a boy the same age. Uncover all these facts and more at the Food Standards' comprehensive website. Good luck with your meeting!
You might also like...