What to Include in a Good Picnic Basket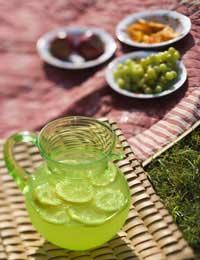 It's picnic season – time for frolicking on grassy hillsides and feasting on fruit salad! The perfect excuse for planning a family outing for your cookery group. The biggest challenge is finding a range of hearty dishes that can be transported and eaten cold. But you'll find plenty to choose from here.
Food Tastes Better Outside
Fish and chips taste saltier – pies taste meatier – and cold beer tastes heaps better in the sunshine! In fact serving food piping hot is not the best way to enjoy it. Your taste buds are better able to sense the flavours when the temperature is closer to your own body heat. You could also combine your picnic social with a game of family rounders before eating. Which means that your bring-a-bowl Picnic cookery group could be the best yet!
Starters
A picnic is no place for starters. This is all about informal, eating-with-your-fingers food. But you could allocate napkins, paper plates and cups to one member, who can be responsible for picking a good spot and laying out the goodies.
Main Dishes
Ask one member to make each dish – and make it a big one – these will go down well after a sunny game of cricket!
COLD POTATO SALAD is a British institution. There are literally hundreds of recipes for this classic dish, but they all start with extremely good potatoes. Pick a new or salad variety – locally grown if possible – like Charlotte, Pink Fir or Anya – because these won't become floury when cooked. Toss with olive oil or mayonnaise, seasoning and herbs or shallots. Be adventurous with a curry-spiced yoghurt potato salad. Or how about a Caribbean potato salad with sweet potato and cayenne?
PORK OR SAUSAGE PIE – The Pork Pie is a picnic legend! It calls for some pastry-making skills, so it's not an easy dish to prepare. As an easier alternative, sausage pie is the Italian pork pie. Smooth sausage meat with onion and herbs and layer it with mozzarella. If you don't have any pastry-making members, how about giving someone the challenge of making their own scotch eggs?
CHEESE AND ONION PIE. If you're having pork pies, it's only fair to do a vegetarian version as well. Use a combination of cheddar and local cheese, mashed with chunky potatoes, shallots and spring onions – and you could even enrich the pastry with parmesan.
PICKLED ONIONS AND BEETROOT. These should be made in advance, so plan ahead. Beetroot can be fast-pickled in balsamic vinegar and works well with goat's cheese.
LAYERED FOCACCIA. Focaccia is an Italian bread made with olive oil that is quite simple to reproduce. After kneading and resting, it's rolled out to form two flat pieces, which you can then layer – try marinated artichokes, mozzarella and parmesan, or roasted tomatoes – finishing with the second layer of dough, and baked until golden.
SEEDY SODA BREAD. Soda bread is a type of bread that requires no yeast. Instead it rises with the aid of bicarbonate of soda. There are plenty of no-knead recipes, so this is a good recipe for someone who has never baked bread before. The finished bread is easy to transport and perfect served with strong cheese.
CHIPS AND DIPS. Ask one member to bring some interesting dips – they can be imaginative with the ingredients! How about pepper and feta; chickpea hummus; pesto mayonnaise; or curried crème fraiche? To dip, cut fresh vegetables and toasted pittas into crunchy strips.
Drinks
Your picnic will probably stretch on and on – and you'll need lots of drinks to keep everyone hydrated. Allocate some of these to different members:
COUNTRY PIMMS: This classic punch is essential at a traditional picnic. Mix a bottle of Pimms with lots of chopped fruit and lemonade, and garnish with cucumber.
STRAWBERRY LOLLIES: You can make these lollies with any fruit juice, and strawberry and peach makes a good combination. Pour the strained juice into lolly moulds and transport in an iced picnic bag.
TRADITIONAL LEMONADE: Making your own lemonade is lots of fun – steep peel and juice in water before adding sugar syrup. You could also experiment with orangeade and pink grapefruit-ade!
You might also like...