Bonfire Night Cookery Group Menu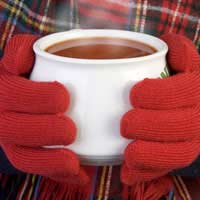 This bonfire night cook up a spectacular show. Gather your Cookery Group for a warming feast of jacket potatoes with delicious toppings, sticky sausages and toffee apple pudding... and welcome the winter in style!
Choosing a Bonfire Theme
For Bonfire Night, a seasonal, warming menu is in order. Late autumn is abundant with foodie treats, and plenty of local produce becomes available at this time of year. So, for this Cookery Group meeting, here's a Bring-A-Bowl menu featuring new versions of Bonfire Night traditions like stovies, hot dogs, toffee apples and soup. And if you're looking for an excuse to make this a family get-together, why not book a fungi expert and take your group on a foraging walk!
Starters
Whether you're huddled around a bonfire in the back garden, or you've just come in from the local firework display, start with something seasonal and warming. Allocate one dish to each member and make sure there's enough to go around.
Mugs of soup are always welcome as winter approaches: perfect for wrapping cold fingers around and sipping slowly to warm your insides. Instead of the classics, create a contemporary recipe using autumn's finest – how about pumpkin and coconut, leek and butter bean, or vegetable and barley?
Hot rolls: A great accompaniment to soup is a fresh roll, so give one member the task of baking a selection. The aim is to be adventurous, introducing your group to new ideas – try parmesan ciabatta, rosemary focaccia, poppy-seed and wholegrain, or walnut and cheddar rolls.
Mains
Because this menu is designed for eating outdoors (as well as in), the main course should be something easily portable. We've suggested jacket potatoes with a variety of fillings, sticky sausages and freshly made coleslaw.
Jacket potatoes: Ideally, the host provides these. Allow one per person or 1.5 if you think that some members will want seconds! The very best jacket potatoes are rubbed with oil and salt, and roasted in a medium oven for at least an hour. To make sure they cook evenly, thread a skewer through the centre of each potato before putting it in the oven.
Potato fillings: You could allocate this task to one or two members. You might need up to three fillings – meat, gluten-free, and vegetarian – to cater to different dietary requirements. Make these fillings rich and hearty: try ale-braised beef, satay chicken, mustardy sausage and lentil, and chestnuts braised in red wine. Bring them in ovenproof dishes and they can sit in the oven to warm up before serving.
Sticky sausages: perk up ordinary sausages by brushing them with some different glazes before grilling. Try mustard and maple, honey and orange, or chilli and soy.
Coleslaw: To complement the potatoes and sausages, serve one or two dishes of fresh coleslaw. It's easy to make mayonnaise at home; add mustard, grated carrot, cabbage and celeriac, and you've got a delicious winter salad. Make a variation on ordinary coleslaw by mixing the grated vegetables with a dressing of sour cream, lemon and chives; or a French vinaigrette with bacon bits.
Puddings
Finish the menu with some carry-home sweet treats! Members can choose from:
Toffee apples: the ultimate Bonfire Night treat. Put a twist on the ordinary version by baking apples in a toffee sauce and serving with custard or crumble.
Lamingtons: another autumn tradition, these little chocolate cakes are dipped in coconut and served from parchment parcels.
Coconut ice: this old-fashioned favourite deserves to make a comeback! Wrap two or four pieces in scraps of newspaper and hand out at the end of the evening.
You might also like...