Winter Cookery Group Menu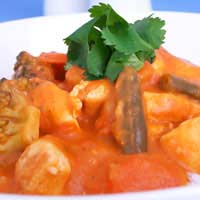 It's winter – season of gloves, boots and hearty get-togethers! Here's a suggested menu for your cookery group to cook, bring and share. After a glass of mango lassi, tuck into home-cooked bowls of spicy beef and root vegetables. This seasonal menu provides plenty for your cookery group to talk about…
An Indian Theme
Indian food is one of those things that most of us leave to professional chefs. It's too hot – it's too complicated – it's too time-consuming. But a curry doesn't have to burn your head off – and it doesn't have to take up an entire day in the kitchen.
This Indian-themed winter menu is designed to allow you to try making one new Indian dish – and to taste a wide range of homemade curries that improve your spice vocabulary. At the end of the evening members can distribute printed copies of their recipe, and you'll hopefully have discovered a new favourite!
Starters
The list of Indian starters that your group could try is almost endless. Depending how many people you've got cooking (and eating!), you might want to allocate some or all of the following:
ONION BHAJEES. This Indian Restaurant favourite is no small fry to prepare at home – onion slices are dipped into a spiced batter made from chickpea flour.
VEGETABLE SAMOSAS. These take kindly to freezing and transporting, and are easy to bake – if you use filo pastry to encase the spicy pea and potato filling, you can bake them for around 10 minutes in your host's oven.
POTATO PAKORAS. These are a lot like potato pancakes – made with cooked potato and extra spices and vegetables – served with chutneys.
SHEEKH KEBABS. Another great favourite for freezing, these mini kebabs consist of marinated chicken or lamb and can be quickly griddled from cold.
Main Dishes
These main dishes should be allocated to one person each – they are all quite time-consuming, usually involving grinding spices, sautéing onions, garlic, chillies and ginger, and stewing to cook the ingredients. The vegetable mains and accompaniments can be reheated in a low oven but it's best to reheat the meat dishes over the hob. All curries are better if they've been made the previous day.
> CHICKEN AND MUSHROOM KORMA is ideal for anyone who can't stand the heat! The korma is a gentle curry made with a base of onion, meat and vegetables, thickened with some ground almonds, cashews or poppy seeds, and then stewed with coconut milk. A chicken and vegetables korma is a good counterpart to the rich balti that will be on the table. Reheat on the hob, garnishing just before you dish up.
> BEEF AND PARSNIP BALTI is a very British sort of curry – taking the best of Indian spices and stewing them for a long time in a Balti pot! Using good British beef (or lamb, if you like) and seasonal vegetables such as parsnips, cauliflower, and celeriac, turns this into an Anglo-Indian favourite! You'll find balti recipes all over the place – look for one by an established writer (such as Anjum Arum, Pat Chapman or Madhur Jaffrey).
> In winter many of us, especially women, are deficient in iron. Spinach is grown all year round in the UK, and SAAG ALOO is a great way to eat it. A traditional 'dry' curry cooked with potatoes, onions and mustard seeds, Saag Aloo is extremely popular in Britain. Wrap it in its dish, reheat in the oven or hob, and finish with a sprinkle of coriander before everyone tucks in.
Accompaniments
These accompaniments are just as fun to make as the mains – there's an authentic Indian bread and a richly flavoured vegetable rice dish.
Naan bread is one thing almost everyone loves! This simple bread is made with flour, yeast, oil, salt, and sometimes yoghurt too. It's super-quick to cook, and you can freeze the uncooked rounds ready for another occasion. Whoever picks this dish could include a coriander or garlic spiced naan bread, or, if they're feeling adventurous, a traditional 'keema' naan – stuffed with a spicy lamb filling. To bring the breads, just freeze (uncooked) and wrap in foil – a few minutes under a hot grill is all they need.
A vegetable biryani doesn't just provide starchy succour to serve alongside the meat – it's also perfect for any vegetarians to enjoy. This one-pot sharer is made with spiced-up rice and roasted vegetables, usually layered with a spicy sauce and finished in the oven. To bring and reheat, just cover with foil and slide into the bottom of a low oven.
To Finish…
Depending how many people are in your group, you could end with some frozen KULFI – traditional Indian ice-cream made from boiled milk and flavoured with rosewater or pistachios – or a steaming glass of Indian CHAI TEA. (For a really authentic 'Indian Restaurant' finish, you could hand out chocolate mints on the way home!)
You might also like...