Allotment Produce for Your Group Recipes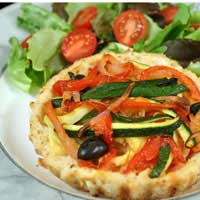 Whether you want to connect with nature or save a few pounds on supermarket strawberries growing your own is all the rage! You may have a cookery group of allotment holders, a few allotment-holding members, or you may just want to celebrate the seasonal diversity of home-grown veg. Try our menu suggestions – and discover the pleasure of cooking your home-grown stuff.
Focusing on Home-Grown
In the UK, the best eating season is undoubtedly late summer to early autumn. Ask any allotment holder or vegetable gardener – for these few months they've probably got more produce than they can eat or freeze! For this themed cookery group, it's a great idea to concentrate on fruit and vegetables that are easy and prolific to grow.
If you do have vegetable gardeners in your midst, they will want to make dishes that use up their gluts. Book your date in late summer, and arrange a place for the group to meet and eat – a plot or vegetable garden are perfect!
Starters
Tomato, sweetcorn and spinach plants are producing abundantly by late summer. Try some of the following for your menu:
Lamb-stuffed tomatoes – a Middle Eastern speciality that makes the most of juicy beefsteak tomatoes by filling them with a gently aromatic lamb stuffing.
Cherry tomato tartlets. Equally delicious hot or cold, tomato tarts come in many forms: on a base of puff, shortcrust or filo pastry, combine cherry tomatoes with goat's cheese or local cheddar; top with an egg custard or bake as they are.
Spinach and pumpkin seed salad. If the weather is hot, a salad might be just what your dinner needs to start. Splash baby spinach leaves with oil and lemon and sprinkle with crunchy pumpkin seeds – then store in a cool-box.
Main Dishes
If you're planning to eat outdoors, choose main dishes that can be barbecued or served cold. Maincrop potatoes – dug up in July – make wonderful bakers, and should be wrapped in foil and studded among the barbecue coals (or quick-baked in a microwave!). Don't forget to allocate drinks to one or two members – see the ideas below.
HERBY LAMB-BURGERS are much easier than they sound, and you'll probably have members fighting to make them! Lamb mince is mixed with grated onion, garden herbs, and fresh egg, and then shaped into patties. Chill until transporting to the barbecue and grilling until well-cooked.
ITALIAN COURGETTE SALAD – In Italy, vegetables are very carefully prepared, and the humble courgette can be transformed with the right extras. Make a salad to be served at room temperature by frying very thin slices of courgette, spreading in a wide dish and sprinkling with rock salt, red wine vinegar and good olive oil. Alternatively, you could make a thin courgette and herb tart – or a Spanish courgette frittata, perfect served cold.
BEETROOT, POTATO OR BROAD BEAN CROSTINI. These nibbly breads are favourites of Rick Stein, Ruth Rogers and Nigella Lawson, and they're perfect for big get-togethers. To make them, simply bake thin slices of Italian bread in a low oven until crispy. Top with a summery puree – try beetroot and sour cream; potato and garlic; chopped tomato and basil; or broad bean, feta and mint.
Drinks
If your allotment-themed cookery group is being held in late summer, the drinks table is one of the most important considerations! Allocate the responsibility to one or more members, who might try these:
Raspberry Bellini. This sunset-inspired drink has a spoonful of strained raspberry puree in the bottom of the glass, which is then topped up with Prosecco (or any fizzy white wine).
Mint Mojito. This easy summer cocktail is a good way to use up all that mint in the garden. Press the mint in a shaker with a good squeeze of lime and shake with plenty of ice and a large measure of rum. Strain into glasses and top up with lemonade and more mint leaves.
Peach smoothie. Whiz home-grown peaches with good orange juice and pour into a big jug, then top with ice and mint leaves.
To Finish…
If you're lucky enough to have some home-grown strawberries, there is only one way to end this delicious cookery group – strawberries and cream. For a gourmet twist, make a tart from shortcrust pastry and crème patisserie, then pile the fresh berries on top.
You might also like...