Autumn Cookery Group Menu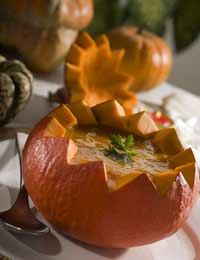 Autumn's here and you know what that means. Barrows of fresh produce, trees groaning with apples and chestnuts, fireworks and bonfires... there's plenty of foodie inspiration this season, and no shortage of excuses for a get-together! Invite your cookery group to prepare and bring their favourite dishes made with the autumn harvest. Or, for more of a challenge, give each member a randomly selected dish from our special autumn menu.
A Harvest Theme
It's impossible to choose any other theme for this seasonal meal. Harvest is a time of joyful abundance and thanksgiving for the summer past. We are overwhelmed with choice, whether we shop at the supermarket or the grocer's. Pumpkins and squashes – traditionally roasted or turned into soup for bonfire night – blend harmoniously with rich chestnuts, beefy stews and root vegetables. Anyone who grows their own produce is likely to have plenty of leftovers at this time of year. And how better to use them than a celebratory Harvest Cookery Group meal?
Starters
Autumn isn't really a time for elegant starters. Instead of finger-food and artful presentation, choose rustic, warming starters that welcome your members in from the chilly evening. Of course, if you did want to play on the theme, you can make or buy leaf-shaped parchment on which to serve your food, and make a garland of leaves and berries to decorate the table. Here are some ideas for starters:
Pumpkin and parmesan soup. Pumpkin and squash melt down into glorious soups. Sauté with butter and onion, sweat to allow them to turn slightly golden, then add other ingredients – sweetcorn, milk, tomato or carrots – and simmer with stock until ready to be liquidised. Finish with parmesan croutes.
Sweetcorn muffins. Throw blanched sweetcorn kernels into a savoury muffin batter to create a deliciously sweet-savoury scone, perfect for dipping into soups.
Chestnut and wild mushroom pate. Those who dare can forage for their own mushrooms (go with an expert!), or simply buy them fresh from a supermarket or good grocer. Soften in butter and blend with roasted chestnuts, seasoning, tarragon and egg yolk, before baking in individual ramekins. Serve the pate with wholegrain toast.
Main Dishes
It's the season to cuddle up beside the fire with a big bowl of stew or broth – something thick, rich, and warming. Make large dishes of these meat-and-veg courses, because people are likely to return for seconds! All you need to provide on the side is a basket of crusty bread – or perhaps a tray of baked potatoes.
Lamb and Leek Stew. This Welsh classic is very easy to make: the secret is to stew in a low oven for as long as possible. It's virtually impossible to overcook lamb, which simply becomes more tender in the low heat.
Chestnut and Parsnip Cassoulet. For the vegetarians among your group, choose something no less hearty. A French-style Cassoulet, enriched with red wine and tomatoes, and finished with parmesan crumbs, hits the spot.
Braised Beef with carrots and turnips. The turnip is an overlooked root, but it's been a stalwart of our national cuisine for decades. Gently braise the very finest beef with stock, shallots, bay leaves and perhaps a splash of wine, and serve with a mash or sauté of root vegetables.
Puddings
Something hot and sweet to warm your insides before you have to wrap up and go home! Serve with vanilla ice cream, clotted cream, or a jug of custard.
Bramley Apple Pie. Look hard, and you may just find an apple tree nearby. Collect apples when they come off readily in your hand. The traditional apple pie can be made with cheddar or sweet shortcrust pastry, and filled with Bramleys or a mixture of Bramley and Cox pieces.
Pumpkin Cheesecake. An unusual variation on American pumpkin pie, this cheesecake is a good way to use up unwanted Halloween pumpkin chunks. There are plenty of recipes online for this.
Plum Cobbler. If you can lay your hands on some plums, make a classic plum cobbler or 'grunt' – in which the fruit is tossed with spices and sugar before getting topped with a scone mixture and oven-baked.
You might also like...