Christmas Cookery Group Menu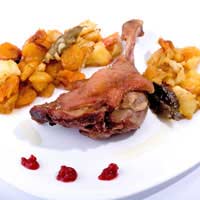 It isn't long 'til Christmas... and we love to stretch out the celebrations! Hold a festive Bring-a-Bowl dinner with your Cookery Group and add some new seasonal favourites to your repertoire. Here's a menu with new ideas for chestnuts, goose and crispy potatoes – strictly no Scrooges allowed.
Choosing a Theme
It may be Christmas – the season of overindulgence – but you don't have to stick to culinary tradition. Lay your Cookery Group's festive table with new versions of the classics, starting with a nutty chestnut pate and finishing with some real homemade truffles. Hopefully every member will go home with a new recipe for their own celebrations. Don't forget to ask every member to bring a copy of their recipe, so the host can compile the notes for handing out afterwards.
Mains & Accompaniments
Set your Cookery Group a challenge: a Christmas dinner with a twist. No roast turkey, no Christmas pudding, and no steamed sprouts. Then give each member an element of the meal and ask them to bring a creative version!
The Roast
Well, if you've ruled out turkey, you could try a goose instead. You'll need a large oven but a goose is said to be moister and more richly flavoured than turkey – and it will serve more people. Alternatively, bring a roast topside, or even a crisp and golden roast duck (or two).
Nut Loaf
The boring old nut loaf deserves a modern makeover for your vegetarian members. Look up new recipes by Rose Eliot and Celia Brooks Brown. Try a Rich Mushroom Wellington, a chestnut and cranberry crumble, or a parsnip and walnut bake. Don't forget that this vegetarian main does need to be rich in protein and flavour, if it's to be served alongside all the vegetables.
Sprouts and Parsnips
These Christmas stalwarts need perking up, don't they? Stir-fry shredded sprouts with pancetta and chestnuts, or toss them in a warm cranberry dressing with walnuts. Parsnips, too, combine beautifully with other festive flavours: dress roasted parsnips in Clementine juice and honey, or roast in mustard and maple syrup. For a softer touch try creaming your parsnips with nutmeg and butter, or slice and bake them in stock and milk. You could add to these accompaniments with a Sweet potato Pie – straight from the Thanksgiving table.
Roast Potatoes
It's difficult to change these enormously – they're pretty near Christmas perfection. However, it's a good time to experiment to find the best recipe. If you're the member who gets this task, you could roast some in goose fat, and some in olive oil; parboil and roast, or peel and roast; and you could also try techniques such as shaking the dry potatoes in a pan, or sprinkling with semolina for extra crunch.
Cranberry and Bread Sauce
Give one member the task of making these at home. Cranberry and Clementine sauce is a nice twist; to bread sauce, add nutmeg and try making a complimentary Gingerbread stuffing (look up Nigella's Feast).
Puddings
It's the time of year when nobody can refuse a pudding. Diets can wait until January! Load your table with:
Steamed date and ginger pudding – for a twist on traditional Christmas pudding, make up a sticky and aromatic version. Look this recipe up at BBC Good Food.
Spicy chocolate fruit cake: add cocoa, ginger and cloves to a fruit cake recipe, swapping candied peel for dates and prunes, and drenching in dark rum. Top with a white chocolate ganache (as long as the cake is going to be eaten within a few days) and gold-dusted stars for extra wow factor. For a recipe, look up Nigella Lawson's Feast.
Mince pie ice-cream: swirl mincemeat through a luxurious vanilla custard, add some softly-whipped cream and a splash of rum or brandy, and freeze – enough alcohol should keep it from freezing solid. Serve with flaked almonds or puff-pastry stars.
You might also like...