Family Cookery Group Menu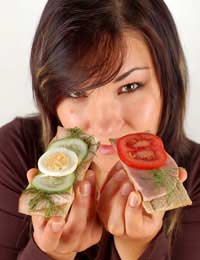 Cookery Groups are a great excuse to entertain. From elegant dinner parties to themed buffets big meals are easier when there are eight chefs. So why not run a Family Cookery Group meeting and get everyone together once in a while – it's good for the kids and it's even better for you. Here's a suggested menu for getting your cookery group families together.
Preparation for the Host
Because members are bringing their families to this event, it's a good idea to choose a wide, public venue – rather than trying to squeeze everyone into someone's front room. In summer, pick a park with wooden tables, or a beach – in winter, borrow a church hall (you could even invite churchgoers to buy tickets!), or hire a community hall. And, whether outdoors or indoors, make sure your venue has somewhere to reheat food. Hopefully this menu will have enough room-temperature options that you shouldn't need an oven for much, but you never know what people will bring.
A Grab and Go Event
This type of event – with everyone picking and mixing from a table, perhaps eating at different times, and returning for seconds – calls for a cool buffet. You could try serving three courses, but it will mean a lot of anxious reheating and waiting. So stick to room-temperature foods: small portions, finger-foods, and bags of munchies; and don't forget you'll need plenty to drink too. Allocate a different dish to each member (or ask everyone to suggest their speciality) and you'll have a big, varied spread on the table.
Ideas for Members to Bring
Sandwiches – Instead of the crustless cucumber triangles, make some contemporary sandwiches. Fill Mexican wraps or Italian ciabatta rolls with hummus and feta, herby Philly and balsamic chutney, spicy prawns, or avocado and beetroot.
Pastry rolls – be imaginative. Try sausage and pickle, cheese and onion, curried pea and potato, or spinach and pistachio.
Salad cups – pile layers of salad into plastic cups for easy serving. Try layering couscous with roasted peppers, charred artichokes with rocket and feta, cherry tomatoes with basil and spring onions.
Dips and fish fingers – who says fish fingers have to come from a packet? Make your own by coating slender strips in egg and breadcrumbs, and serve with a sophisticated sour-cream and dill dip.
Tortilla pizzas – Spread a pack of tortilla chips over a large plate, then cover with a juicy salsa topping and scatter over fresh herbs.
Carrot and sweet potato crisps: it's easy to make these at home – using a peeler, pare off thin slices and drop into hot oil. When browned, drain on kitchen paper and sprinkle with salt. Make just before you leave for the event.
More dips – crème fraiche is a brilliant base for all kinds of dip. Add garlic and chives, curry paste, lime and coriander, or grated parmesan and mashed feta.
Crostini – this brilliant Italian antipasto has really taken off in recent years, and that's because it's so easy. Buy a pack or two of crostini (or make your own by toasting slices of French bread in a low oven) and top each one with a teaspoon of chickpea puree; cured ham and chilli; broad bean and basil puree; or diced tomato and basil.
Sweets / Desserts
For sweets, the easiest thing to do is nominate your group bakers to bring their most-requested recipes – whether it's flapjacks, fairy cakes, or mini cheesecakes! If you're stuck for inspiration, you could also try:
Rocky road – this no-cook tray-make is a delicious combination of nuts, mallow, biscuit and chocolate – very wicked, and perfect in small chunks!
Sticky toffee popcorn – popped, coated in sticky caramel and spooned into individual pots, this is an irresistible sweet for kids to grab and munch.
You might also like...