Cooking on a Budget in Your Cookery Group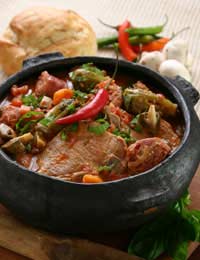 Cooking on a budget – does it have to be tinned fruit and frozen peas? For this masterclass ask your group to do the research. Whether your members present their best ideas or whether you bring a dish each, it should give you all plenty of food for thought!
Cooking on a Budget - Guidelines
This works best as a group Masterclass, at which every member brings and presents a budget dish that they have invented. After tasting everyone's food, you can discuss the techniques and ideas as a group. It would also be nice to provide an incentive - you could award a bottle of champagne for the most imaginative dish, and a tin of beans for the cheapest to make!
But before setting this challenge for your cookery group, hand out some tips on budget cooking to get everyone started. You could copy and print the following ideas:
Shopping: choose loose, seasonal, local fresh produce – it will be cheaper than its pre-packed, out-of-season, exported counterpart.
Cook from scratch. Making your own bread, cookies, croissants, pastry, and even dog biscuits can save you literally pounds every week.
Cook with leftovers: can you whip up a new meal from the remains of last night's dinner? Think bubble and squeak or rosti, pies, burritos, omelettes and soups.
How much did it cost? Work out the price per serving of your meal by totalling the cost of the ingredients and dividing by number of people served. A roast chicken needn't be budget-busting if it can feed your family twice – the second night, maybe in a Thai chicken salad or spicy fajitas.
Protein on a budget… Try a vegetarian dish occasionally – meat, especially beef, is an expensive choice for every day. You might be surprised to find that you hardly miss it! Try using Quorn (vegetarian 'chicken style' chunks) or soya mince to recreate your meaty favourites.
Cheap wonder-foods: try giving each member a cheap, nutritious ingredient as the starting point for their dish. You could give out tinned tuna; baked beans; red lentils; chopped tomatoes; and peanut butter.
Suggestions For Budget Dishes
Spice up ordinary chicken thighs or leftover potatoes by adding a pinch of garam masala and fresh coriander. You may create a new masterpiece!
Soup is a great budget dish, particularly paired with homemade bread. Anything can produce a delicious soup, from chicken bones to those carrots that are wilting in the vegetable rack!
Big-batch stew: make a meat stew go further by cooking it with root vegetables or lentils – slow cooking allows the meaty flavour to permeate the stew, giving a hearty stew.
Pasta meals: pasta is cheap and filling, and makes a great budget dish – combined with the right ingredients. Use a splash of something special like walnut oil or add egg yolks for a luxury finish.
Homemade pizza: indeed, anything made with homemade pastry, pasta or dough is a good option. Flour and yeast are inexpensive and formed into dough, can taste delicious – no clue it's budget!
Any-dinner mince: Some things, like vegetable or chicken broth, ragu, or slow-cooked tomato sauce, can be made in big batches, then frozen in smaller portions. Be imaginative when using them: your tomato sauce could be the basis for a special Balti, and the ragu mince can become a Greek-style moussaka.
To Finish…
When you arrive, have everyone take their dishes to the kitchen, where one member numbers them and lays them out anonymously. Then invite everyone to taste, guessing the cheapest or voting for the tastiest. After the tasting, you can sit back and discuss the tips and tricks you've learned.
You might also like...