Cooking Pies and Pastry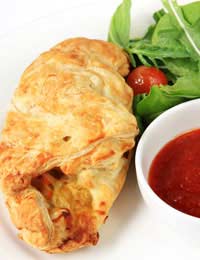 Any recipe that calls for homemade pastry is off to a good start. But if you're afraid to tackle this notoriously tricky task you're missing out! Hold a Cookery Group Masterclass on pastry and give your entire group the confidence to whip up their own pies at home. The rewards are rich and flaky...
Research and Presentation
Unless you've budgeted for a guest speaker – or you're lucky enough to know a pastry chef – then you will probably be running this Masterclass yourselves. Elect one or two members to present the session. There are some suggested resources at the bottom of this article.
Equipment
If you want to get your group involved in activities, you'll need some basic equipment for this Masterclass. Here is a suggested list of equipment for the session:
Rolling pins. You can buy these cheaply at any store stocking cookery utensils – look in your local supermarket. In an emergency, use smooth drinking glasses (which have the added advantage of staying cool).
Boards, in wood or marble. Accomplished pastry chefs often use marble slabs to work with pastry. It stays cool, which is important.
Baking trays and pie dishes. Anodised steel is best for these. Look for pie dishes with a wide rim so that you can bake double-crust pies as well as pot pies.
Lots of flour, butter, shortening, salt and yeast. Oh, and some aprons – to keep everyone from going home looking like a snowman!
Techniques to Try
Pastry doesn't have to be daunting – look for techniques that are developed for the home cook, and give it a try. You'd be surprised how easy it is to make professional-looking Danish Pastries at home – and you'll get a reputation as a culinary wizard. For this Cookery Group Masterclass, consider discussing or even trying out some of these:
Puff Pastry. We buy it by the trolley-load, but the only ingredients are flour, water, salt and butter – shouldn't we be trying it ourselves? The technique you'll need to master for Puff Pastry is rolling and folding (not so hard, is it?). The way this type of pastry works is by enclosing the fat in layers – so you need to roll it into a kind of concertina construction. Look at Delia Smith's recipes for Puff Pastry and Flaky Pastry, and Nigella for a Processor Puff Pastry.

Shortcrust Pastry. There are different ways to make this. Although historically, cooks are taught to make it with the ratio of 50% flour: 50% fat, many modern cookery writers suggest upping the fat content for a better crust. You can also use an egg yolk (beaten with a little water) to bind the mixture at the end. When making shortcrust – or, in fact, almost any pastry – it's crucial to keep everything as cool as possible. The room, the rolling board, and even your hands.
Danish Pastry. This is a yeasted pastry, so it takes longer than the other types, because you have to leave it for the yeast to rise. But if you're running the session, you could begin a batch of this pastry at home and bring it to the group to shape and bake. Danish pastry is made in three basic stages (each separated by a resting period) – combining the ingredients, rolling and folding, and finally, shaping and baking. Really, patience is the main skill you'll need for this pastry. And the results? You'll have to taste them to believe them...
Resources
Leith's Baking Bible contains a comprehensive section on pastry, covering many different types as well as recipes for pies and tarts. Martha Stewart's baking books (and her website) also have some good pie recipes (especially if you want to try Pecan or Pumpkin pie). Beatrice Ojakangas is the queen of Scandinavian pastry-making, and has written a version of complicated Danish Pastry for the home cook – look up her blog online.
Of course, we haven't yet mentioned our own domestic goddess, Nigella Lawson. Her second book offers reassuringly straightforward recipes for anyone who wants to try their own puff pastry or croissants, Italian or English pies, or fruit tarts.
You might also like...