A Masterclass in Indian Classics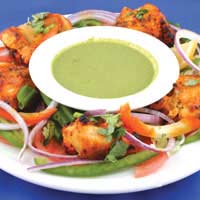 Grinding cinnamon, roasting cumin, using tamarind – Indian cookery is full of mystery. It's one of those cuisines that many people find difficult to start with, so it's the perfect topic for a Cookery Group Masterclass. If you can find a guest speaker who can talk about the range of spices, ingredients and classics in this varied cuisine, great. If not, don't be put off – you can still learn about Indian cooking, wherever you live and whatever ingredients you can find!
Find a Speaker or Host it Yourself?
If you can't find a guest speaker for this masterclass (try your local Indian restaurants), there's no reason why you couldn't hold it yourselves. Elect several members to organise the meeting, each of whom should practise recreating a classic dish and bring what they've learned.
Ask each member to bring notes on their research and a definitive recipe, so that they can talk about their experiences while they were recreating the classic dish. Choose popular contemporary classics such as:
Onion Bhajee
Tandoori Chicken
Lamb Madras
Pea and Potato Korma
Balti
and accompaniments such as:
Chapati Breads
Biryani Rice
Each dish requires different techniques and spice blends, so there's plenty of scope for discussion.
The Variety of Indian Cuisine
India is a vast country, and the term 'Indian food' is really quite misleading. Its cuisine is determined by regional agriculture and traditions, which are different as you move around the country. A diverse population has developed several very different types of Indian food: for instance, in the west, vegetarianism presides. Further east, you can detect a Chinese influence in dishes like clear soups and aromatic Bengali sweets. Up north, tandoori ovens and rich sauces are popular. And in the south, fish curries, coconut milk and rice dishes are part of every menu. The four regions are so different in their cooking that you might decide to cover them in four separate meetings!
A North Indian menu might include: Chickpea Chaat, Vegetable Samosas, Chicken Makhani, and Vegetable Biryani.
An East Indian menu might include: Thukpa, Aubergine in Yoghurt, Prawn Kofta, and Bengali Fish Curry.
A West Indian menu might include: Channa Daal, Kachumbar (vegetable salad), and Thali (with aloo gobi and okra curries).
A South Indian menu might include: Masala Dosa, Goan Fish Curry, and Vegetable Korma.
Recommended Resources and Leading Names
Madhur Jaffrey is a respected Indian food writer who has played a big part in bringing classic Indian dishes to British home cooks. She has published dozens of books including the authoritative Curry Bible – look in your local library to see if any of her books are available.
Pat Chapman founded the Curry Club in the 1980s. He publishes the Good Curry Guide every year, runs Indian cookery courses, and writes recipe books – focusing on restaurant-style curries.
Meena Pathak (of Patak's curry pastes) is a leading authority on Indian family cooking. Look up some of her writing for delicious, home-style food.
Modern Indian chefs Anjum Anand and Atul Kochhar bring new perspectives to Indian cookery – their books are simple and modern, with recipes ranging from family Indian-spiced pies to healthy kebabs and salads.
To Finish
Many Indian regions have their own dessert traditions. Elect one member to try making Carrot Halwa or Mango Lassi – the perfect digestive aid after tasting all those spicy dishes!
You might also like...