Cooking With Lentils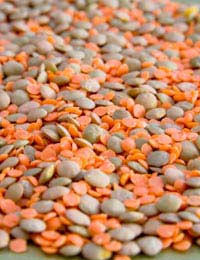 Lentils come from Western Asia and the Mediterranean area. The plants are small annual leguminous plants with edible seeds which are cooked and used in soups, stews, stuffings and purees.
They are an essential part of many Indian meals for the flavour and nourishment they provide. Lentils come under the culinary heading of 'pulses' and are protein-rich. They may also be bought in bulk-great way to save money as they store well. Cans of prepared lentils are available but cost more than dried lentils.
It is important to follow the preparation and cooking guidelines supplied; as both whole and split dried lentils require washing and simmering before they may be consumed to get rid of toxins.
Lentil Soup with Pasta
This is not boring! The substantial goodness of homemade lentil soup, with the addition of spaghetti and fresh mint, makes it an attractive soup with summer appeal, too.
Ingredients
225g lentils (dry weight) or one 420g can brown lentils
1 onion, skinned and finely chopped
2 celery sticks, washed and finely chopped
2 garlic cloves, chopped
1.2 litres beef (or vegetable) stock
4 rashers streaky bacon, chopped
50g spaghetti, broken into small pieces
2tbsp chopped fresh mint
Method
Place the bacon in a large frying pan and add the onion, garlic and celery-with a sprinkle of sea salt and black pepper if you wish. Fry gently for 4-5 minutes.
Add the prepared lentils (follow guidelines on packaging) and stir. Then, add the spaghetti pieces and stock. (If using dried lentils, you can cook them first in the stock for 1-1.5 hours for extra flavour.) Bring to the boil then reduce heat and simmer for about 15 minutes.
Season to taste with sea salt and black pepper-or Tabasco sauce for extra bite.Ladle the soup into warmed bowls and garnish with chopped mint.Perfect after a busy family day out!
Lentil Patties
These make a good accompaniment to salad, cold meat or grilled fish and are great with sausage and baked beans or bacon and egg!
Ingredients
225g lentils
1onion, peeled and chopped
1 clove garlic, peeled and chopped
2 tablespoons chopped parsley
600mls vegetable stock
25g butter
1 large egg, beaten
Olive oil or about 50g dripping
Plain flour
Prepare the lentils according to package instructions (usually soak for 8 hours or overnight in a bowl of water.)Drain lentils and put in saucepan with the stock. Bring contents to the boil, then reduce heat and simmer for 2 hours approximately. Then, drain again and whizz them in a food processor to make a coarse puree.
Fry the onion and garlic in the melted butter for 3-4 minutes.Combine the lentil puree with the fried onion and garlic. Add the chopped parsley.Now bind the mixture with your beaten egg and season with salt and pepper.
Spread the mixture on a cold, clean, lightly floured surface and divide into eight equal portions.With some flour on your hands, roll the portions into balls. Then, flatten to make burger-shapes.Chill in the fridge for half an hour.
Fry in the heated oil/dripping, turning once to achieve a golden brown colour all over.Drain with absorbent kitchen paper and serve immediately.
Spinach and Lentil Roll
Ingredients
175g red lentils
450g spinach
125g butter
50g plain flour
300ml milk
2 eggs
1 onion, peeled and grated
2 tablespoons tomato ketchup
1 tablespoon horseradish sauce
Half a teaspoon chilli powder (optional)
Chopped nuts or dry breadcrumbs
Follow packet guidelines for preparation of lentils. When it comes to boiling them, add the onion to the water at the same time.Drain thoroughly.
Add tomato ketchup, horseradish, chilli powder if used and 50g of the butter.Whizz it all in a processor. Add a few shakes of salt and pepper.
Cook the spinach, without adding water, for 3-4 minutes. Remove from heat and press the cooked spinach with a potato masher to chop finely.
Melt the remaining butter in a pan over gentle heat and add the flour. Keep stirring and let it cook for about one minute.Gradually stir in the milk and raise the heat. Keep stirring until the sauce thickens.Remove from heat.
Separate the eggs then add the yolks to the sauce, along with the spinach.Whizz up the egg whites until they form peaks. Fold into the spinach/sauce mixture.Spoon this into a buttered, lined Swiss roll tin or similar shaped baking dish.
Bake in a preheated (200C) oven for approximately 20 minutes.Turn out onto greaseproof paper sprinkled with chopped nuts or dry breadcrumbs. Spread the lentil/spinach mixture over the paper and roll it up.
Pop the roll back in the oven for 5 minutes.This is especially nice with quite salty fish or pork dishes.
You might also like...