Making Pavlova and Roulade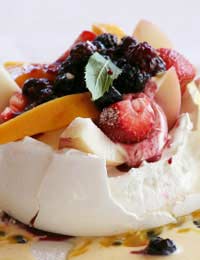 Anna Pavlova was a famous Russian ballerina. During a ballet company world tour in 1926, when she visited both New Zealand and Australia, the meringue, cream and fruit dessert was named after her.
The dessert, 'Pavlova', is believed to have been inspired by the dancer's tutu as well as her incredible lightness of movement.As with most famous desserts, adaptations are available!
There are simple short cuts to follow if you have neither the time nor the inclination to make your own meringue base or prepare the fresh fruit for this dish. (Use a shop-bought meringue base and frozen fruits.)
Try to have a go at making it from start to finish at some stage, though, because it is a simple but quite dramatic-looking dessert and you will taste the difference between fresh, homemade and improvised!
Pavlova Ingredients (Serves 4)
3 egg whites
250g caster sugar
1 teaspoon vanilla flavouring
1 teaspoon vinegar
Pinch of salt
300mls fresh double cream
1 punnet of fresh strawberries or raspberries, or, 6 ripe kiwi fruits
Method
Preheat the oven to 140C.Draw a circle measuring 23cm on a sheet of greaseproof paper (baking parchment) and cut it out.Place the cut out circle of paper on a baking tray.
Place the egg whites and salt in a mixing bowl and whisk vigorously until they stiffen and form peaks.Gradually whisk the sugar into the stiffened whites.Continue to beat the mixture until it forms stiff peaks again.
Fold in the vanilla flavouring and vinegar.Use a palette knife to spread the mixture over your paper circle.Bake for 1 hour-by which time the mixture should have become firm and look like 'proper' meringue.
Remove baking tray from the oven and leave the meringue to cool. Don't be tempted to rush this stage, as this is when the meringue is at its most delicate.
Very gently, remove the paper circle from beneath the meringue as you transfer the Pavlova to a cold serving plate.Whip the fresh cream until it thickens and stiffens.Pile the cream on to the meringue.
Decorate with your choice of fruit and serve immediately.RouladesThese can be made with meat and vegetables, but, for this article, we're focusing on sweet roulade as a dessert. I know it's tough but...
Coffee Roulade
This roll of naughtiness looks elegant and inviting. Even better, it tastes as good as it looks!
Ingredients
3 teaspoonfuls of instant coffee (good quality)
100g plain chocolate
100g caster sugar
4 eggs, separated
300mls fresh double cream
175g blackcurrants
Method
Preheat the oven to 180CBlend the coffee powder (or granules) with 1 tablespoon cold water in a small bowl.Mix these two ingredients until they form a paste.
Break the chocolate into pieces and place in the bowl, then, put the bowl over a pan of hot water to melt the chocolate.Remove from heat and leave to cool.
Line the sides and bottom of a Swiss roll tin or make your own: Cut out a square of baking parchment, 30.5cm x 22cm in size. Fold up a 'wall' of 2.5cm all the way round. Snip into each corner and secure with paper clips to make a paper case.
Now, whisk the egg yolks and sugar together until they thicken. Stir the coffee chocolate in with the egg and sugar mixture.Next, whisk the egg whites until they stiffen to form peaks.Fold the egg whites into the other mixture.
Stand the paper case in the centre of a baking sheet and spread the completed mixture into it.Bake for about 15 minutes, or until firm.Remove from the oven and cover with a damp tea towel. Leave overnight.
Before removing the tea towel the next morning, sprinkle a little caster sugar on a sheet of baking parchment. Next, carefully flip the roulade onto the sugared paper.Whip the fresh cream until it thickens and spread it over the roulade. Add half the quantity of blackcurrants, or other fruit. Then, roll the whole thing up in the sugared paper to form a Swiss roll shape.
Decorate with cream swirls if you fancy and the remaining fruit. Now the most difficult part; can you share it?
COOKERY CIRCLE IS FOR SALE.
This website is for sale [more info].
You might also like...