How to Make a Great Cheesecake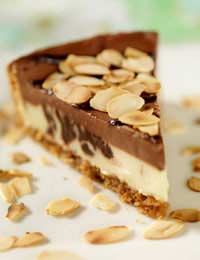 Basic cheesecake is a rich tart made with a biscuit base and filled with a mixture of cream cheese, cream and sugar. There are loads of variations to this rich dessert; Italian and American being among the most famous.
Some cheesecake recipes use a Victoria sandwich base in preference to a crisp crumb one. And they include different types of toppings too; with fresh or tinned fruit among the most popular. I think that if you're going for cheesecake you might as well go for full-on, to hell with the waistline, ingredients!
This little beauty is a mouth-watering delight. You will remember the smell, taste and texture forever...
First, preheat the oven to 180C.
Ingredients for 8 Servings
(Well, no point making a small one, is there?)
150g ginger, rich tea, or digestive, biscuits
50g unsalted butter
500g mascarpone cheese
115g superfine caster sugar
2 tablespoons chopped stem ginger, chopped
2 whole lemons
2 large eggs, separated
400g blueberries or other fresh fruit of your choice
Method
1. Grease and line the base of a 25cm cake tin (or flan dish.)
2. Place the biscuits in a polythene bag and bash with a wooden rolling pin to break them up into small crumbs.
3. Melt the butter in a medium-sized pan and stir in the crushed biscuits, along with the chopped ginger.
4. Stir the contents thoroughly then remove from the heat and press the crumb mixture into the base and up the sides of your pan (to a depth of about 1cm) with the back of a wooden spoon.
5. In a mixing bowl, beat the cheese, grated rind and juice of two lemons, caster sugar and egg yolks.
6. When this mixture is smooth and lump-free, begin to whisk the egg whites until they stiffen and begin to form peaks.7. Fold the egg whites into the cheese/lemon combination.
8. Next, pour the completed mixture into your cake tin. Level the top with a palette knife if necessary.
9. Bake the cheesecake in the preheated oven for 35-45 minutes. By then it should be just about set but don't panic if it cracks or sinks at all during baking-that's normal and is not a problem.
10. Remove your dish from the oven and leave the cheesecake, in the tin, to cool.
Fruit Coulis to Decorate
Pop the blueberries in a small saucepan with 2 tablespoons cold water. Cook over gentle heat for 5 minutes. Strain through a sieve and stir in 1 tablespoon sifted icing sugar to sweeten. Another slightly more mischievous alternative is to add a slug of fruit brandy, kirsch, or similar liqueur to the fruit. If you wish to try a boozy coulis, use less water-about half water, half liqueur. Seems fair!Pour into a jug and allow the fruit coulis to cool. When ready to serve, pour a small amount of the richly-coloured coulis over the pale cheesecake.
Decoration Ideas
For special occasions, pipe the edge of the finished cheesecake with whipped cream then decorate with small fruit segments and/or chopped nuts, depending on preference. Sliced grapes, strawberries, tinned mandarin segments or stoned black cherries, sultanas and chopped pecan nuts all make your great cheesecake a little greater!
Avoid over-decorating as this will detract from the heavenly taste of your cheesecake and spoil the clean, simple look of a top dessert.
You might also like...