French Classics to Cook at Your Group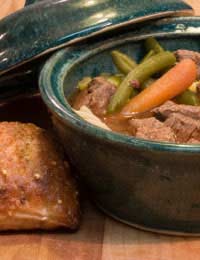 France has one of the world's most famous cuisines. Adopted by many British chefs in the 1980s it is the source of classics like Ratatouille, Cassoulet, Salad Nicoise, Brioche, Tartiflette, and Chocolate Torte.... we could go on, but you must be hungry. For this Cookery Group Masterclass, elect one or two members to research and present a few French classics for the group's education and enjoyment. Then share the recipes and discuss your experiments. Bon Appetit!
Stews
The peasant regions of France are a rich mine for stew dishes, rich in seasonal produce and local meat or seafood. Try perfecting some of the classics:
Cassoulet. Getting this classic right means choosing the right wine. Of course it has to be French – but should you go for a dark, sticky Shiraz or a lighter, brighter Pinot Noir? It depends which recipe you read. The other ingredients in a good cassoulet are belly pork and butter beans. Rick Stein wrote an excellent recipe after researching the Castelnaudary region of France – find it in his book 'French Odyssey'.
Ratatouille. There are many methods of making this Provencal classic, which is a stew designed to use up a glut of tomatoes, aubergines, peppers, courgettes and onions. It's a recipe that follows the old French philosophy "what grows together goes together", and variations might include the addition of wine, herbs, or different vegetables. While some recipes suggest sautéing the onions and garlic before adding other vegetables and allowing to stew, producing a thick, well-combined dish, others suggest frying off each vegetable separately, before combining them with a thickened tomato sauce. Test out a few recipes and arrive at your own perfection – it's more fun that way! Ratatouille undoubtedly improves after a day or so, and it's best served with crusty French bread.

Moules Mariniere. This quick, fresh dish takes some expertise to get right. You want to flavour it well (using perhaps a little thyme, parsley, garlic and wine) without overpowering the mussels; steam them for the correct amount of time; and make a herby gremolata for sprinkling over the top. And don't forget that Moules Mariniere is traditionally served with a big pile of golden 'frites'. Then there's the small matter of choosing the right wine...
Baking and Pastry
French pastry chefs are renowned. Learn some of their secrets and you'll soon find yourself on the path to dinner-party perfection!
French Bread & Brioche. You could probably manage a whole session on French breads. The traditional baguette – floury, fluffy and crusty – is made without fat, which is why it's best eaten quickly. Brioche is a light, fragrant sweet bread traditionally eaten warm with butter. This dough is enriched with butter and eggs, and spiced with zest, cloves or fruit.
Torte. This delectably rich chocolate 'tart' is definitely addictive. Recipes don't usually feature much flour, instead using eggs to create lightness and ground almonds and chocolate for flavour. French cooks have produced chocolate and almond, apple and even apricot tortes, so choose your flavour and then hunt out a selection of recipes.
Creme Patissiere. This is like a cold custard, used in confectionery creations like Strawberry Millefeuille and French flans.
Creme Caramel. Get it right, and this dessert could become your culinary signature. At its best it's smooth and silk and richly flavoured with vanilla and toffee undertones. Look for recipes from the classic French writers (see below), then follow your heart and give yourself plenty of time to experiment. Then whip up a batch for Cookery Group... and become the night's most popular member!
Resources
The biggest resource for French cookery is the country's infamous Larousse Gastronomique, an enormous 'bible' that is essential reading for any chef in training. Elizabeth David wrote arguably the definitive book of French cooking in 1960, presenting the philosophy and style of French cuisine to a British audience. In 1961, Elizabeth's colleague Julia Child provided a collection of recipes. Both writers were hugely influential, beginning a surge of French-style cooking in British restaurants. For an insight into modern French cookery, look up Clotilde Dusoulier and Raymond Blanc.
You might also like...