Masterclass: The Art of Presentation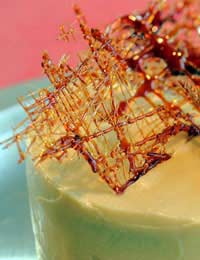 A sprinkle of chives, a drizzle of oil, or a sugar web? It's unnecessary at home but, when you're cooking for others, knowing a bit about presentation comes in handy. This masterclass covers some of the most popular presentation methods, enabling your cookery group to effectively 'market' their future dishes!
Running the Session
If any members are particularly skilled at presentation (you'll know who they are!), ask them to give a talk about their techniques. If not, allocate different topics to different members, and ask them to prepare a talk – and maybe some samples – in advance of the group. You could cover any or all of the following.
Master the Basics
Pay attention to colours: apply this while you're creating a dish, and when you assemble it for the plate. If you're cooking a pale-coloured pasta dish, choose a contrasting coloured garnish or vegetable to serve alongside. An unattractive chestnut puree or aubergine soup can be visually lifted with a flavoured cream, a round of chilli-spiked butter, or a sprinkling of gremolata. Perk up drab colours with a handful of fresh leaves on top, or drizzle two coloured oils around the platter. When you plate up, don't overload: align your elements carefully, working from the centre outwards or, imagining a clock template, arranging different portions at 12, 4, and 8 o'clock.
Sprinkles
Gremolata is the classic 'sprinkle' to breathe life into stews, roast veg, or glazed carrots. Make a simple gremolata by combining the zest of a lemon with 2 cloves of crushed garlic, 2tbsp olive or flavoured oil, and 2tbsp finely chopped parsley. In Japan, their version is called 'Gomasio', which also makes a great salt alternative if you're trying to cut down. Toast 2tbsp sea salt and 2 cups sesame seeds in a dry pan, then grind finely and store in an airtight jar. This is a great sprinkle for Asian dishes.
Flavoured Oils
A drizzle of glistening oil in red, green or nut makes a plate look really special. You can make a selection of your favourite oils and keep them to hand for this purpose. To make herb oil, you'll need to marinate a good bunch of herbs in olive oil for a few days, taste for strength, then strain into a bottle and seal. For chilli oil, pop a few whole or dried chillis into a large pan, and heat gently. Leave to settle, then strain and bottle. Garlic oil is made in the same way – you can leave the garlic in, if you make a small amount, but otherwise be sure to strain it carefully.
Spinning Sugar
'Spun sugar' is the name for that golden 'nest' of sugar that sits on top of desserts in fancy restaurants. To make it, you will need to prepare a tray with greaseproof paper, and get a wooden spoon to hand. Melt 2tbp caster sugar with a splash of water in a saucepan – you're looking for a caramel-coloured mix with pouring consistency. Remove it from the heat at this point, and, using a fork, lift and drizzle the caramel finely over the tray (or a large spoon, to create a different shape).
An easier alternative is to make brittle, which simply means boiling sugar (6 parts) and water (1 part) until richly caramelised, and pouring into a tray to set, before bashing into glittery shards.
Candied Petals and Zest
You need to make sure that your zest is dry before candying it. Drop it into a pan of melted sugar syrup and simmer until it turns glassy, then dry on paper until cool and hard. Petals are even easier to candy. Pick edible flowers – violets, roses, pansies or nasturtiums – and wash and dry them a few hours before you begin. Whisk an egg white gently (just to break it up, rather than forming peaks), and dip each petal into it, making sure it's covered. Dip the petal next into fine caster sugar, and put on a wire rack to dry. It might take up to 24 hours to set.
Chocolate Caraque
This chocolate garnish looks impressive, but it's actually easy to make. Simply melt chocolate of your choice (try two types) and pour onto a wide baking tray, spreading it as thinly as you can. Once it's setting, use a ridged knife to scrape curls and flakes from the surface, then leave somewhere cool to fully set before sprinkling over your cake or puddings.
You might also like...