Making your Own Ice Cream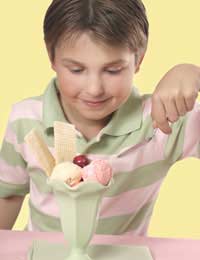 Peach and Raspberry Ripple anyone? The really great thing about making your own ice cream is the opportunity to create your own exciting flavours. Once you've got the basics, you can add any number of ingredients to make your dream cream. It's a great topic for a Cookery Group Masterclass and, if you borrow a churning machine, you could even make some for the group to test.
Research and Presentation
For this Masterclass, you don't really need a guest speaker. A little research and a willing Presenter, and you can explore the exciting world of ice cream at Cookery Group. This is a topic with enormous potential. Ice cream isn't just easy to make, it's also easy to adapt, once you've grasped the principles. And they're not hard...
Equipment
You don't need that much to whip up some Mr Whippy! A big bowl, a saucepan, a whisk and a freezable container, and you can make pure frozen bliss. However, churning the cream yourself as it freezes (removing it every couple of hours) can be slightly hit-and-miss, especially if you forget about it. And, if you want to make some ice cream at this Cookery Group Masterclass, you need a quick-freeze option. For this, you'll need an ice cream machine. There are two types of ice cream machine:
Counter-top Ice cream Machines. These sit on your counter and freeze ice cream while churning to produce a soft consistency. These are the more expensive models, starting at around £250. They're also faster, producing soft scoop ice cream in as little as 20 minutes.
Freezer Ice cream Machines. These come with a bowl that should be frozen before being filled with ice cream. The battery-powered churning mechanism sits in the freezer, churning the cream as it freezes. These models start at about £30, but there can be drawbacks – if your freezer is at the wrong temperature or it's too full, you can end up with icy ice cream anyway.
Traditional & Unconventional Ice Cream
Start your session with an introduction to vanilla ice cream – the base for many other recipes. You'll find there are two ways to make it, either using an egg custard base or an uncooked egg base (try the Ben & Jerry's book for guidance). And once you've mastered vanilla, it's very easy to make simple substitutions: swap a little cream for a little honey, use mint instead of vanilla extract, stir in some chocolate chips, fruit or honeycomb. If you're looking for some more exciting ideas, like buttered Pecan or peach, try the Ben & Jerry book – it's a modern classic for ice-cream makers.
No Churn Ice Cream
Next you could discuss this great shortcut. Making no-churn ice cream is extremely appealing to the novice, or for anyone who doesn't have an ice-cream machine. And it doesn't mean you'll get a mouthful of ice, either. The secret is to use ingredients that will not freeze, so that the finished mixture has a high freezing temperature and, as a result, stays soft. Some writers say that using 30% sugar (and 70% cream and fruit) gives a softer set. And using 50ml alcohol to 500ml of ice-cream mixture will keep the ice cream softer, so try recipes containing liqueur to escape the churning work.
Resources
Where should you start your ice-cream research? Writers Nigella Lawson, Delia Smith and David Lebowitz are all good sources for ice-cream recipes. If you're interested in American-style ice cream, there's only one book to check out: Ben and Jerry's.
You might also like...