Designing Your Menu For Your Cookery Group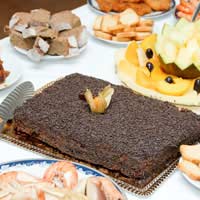 Running a cookery group is about discovering new ways to eat your favourite foods – and new ways to eat your most hated foods! The perfect menu gives everyone the opportunity to try something new or unusual. It's also important to make it nutritionally balanced with options for people who choose low fat or vegetarian diets. Here's information about the essential food groups and how to relate this to the needs of your own cookery group.
The Food Groups
At your first Cookery Group meeting, it can be useful to discuss members' dietary needs and preferences. It's also a good idea to refresh your nutritional understanding. Despite the latest trend towards low-carb diets, national guidelines still tell us that we should be eating foods from the five basic groups every day.
Fruit and Vegetables: By now everyone knows that we should incorporate 5 a day into our diet. Choosing fruit and vegetables of different colours is a good way to try and include a variety of vitamin types – for instance, green veg are rich in iron and calcium; berries, peppers and carrots provide essential vitamins A and C.
Starchy Food: This group covers bread, potatoes, rice, pasta and cereal. It should represent a third of your daily intake. Choosing wholegrain options means that the energy is released more slowly through your day, and these options will also contain more fibre – making digestion easier.
Milk and Dairy: This group shouldn't be cut out of your diet, even if you're trying to lose weight. It always has a place in a healthy meal – and these days you can choose strong cheese, so you need to use less, or skimmed milk, which contains the same amount of calcium and vitamins as full-fat milk. Dairy products are particularly important for children and teenagers, pregnant women, and those with osteoporosis.
Proteins: This group covers fish, meat, eggs and pulses. Your protein serving should represent about 12-15% of your plate, less than half of the amount of starch. Vary your selection to include white and oily fish, pulses, red meat and poultry. Vegetarians get their protein from pulses or lentils, some of which actually provide more protein per gram than meat alternatives.
Fats and Sugars: Only about 6% of your daily intake should be fat or sugar. Don't forget that these can be present in other foods on your plate. But we do need some fat – and there's a difference between good and bad fats. Olive oil, fish, nuts, and avocados are all high in the good, unsaturated fats, which provide essential fatty acids.
Discovering Low Fat Options
One week, give your Cookery Group a theme of 'Low Fat Options'. This can be more fun than it sounds! Give your members a challenge of producing meals with less than 3% fat – and see if you find a new favourite. You could experiment with fat-free French bread, vegetable or lentil soup flavoured with spices and tomato, root vegetable stews, spicy chillis or curries using lean cuts of meat and low-fat yoghurt dips, fajitas with stir-fried chicken, fruity jellies and meringue pavlova. Doesn't sound so bad, does it?
A Balanced Menu
Now that you have discussed the food groups, you're in a good position to select your menu. Don't forget to include a meat or fish and vegetarian protein, a starchy accompaniment such as mashed potato or pasta salad, and a vegetable side dish containing a bright mixture of colours (or two dishes with different veg). You can also work out how much you will need to feed the group, using the food plate:
Meat, Fish or Pulses (15%) = 150g per person
Potatoes, Rice, or Bread (30%) = 300g per person
Vegetable Side Dishes (30%) = 300g per person
Example: If your group has 10 members, who are all carnivores, you will require 1.5kg of meat dishes – the equivalent of two roasted joints – and 3kg of vegetable side dishes.
You might also like...