Advice on Making Cookies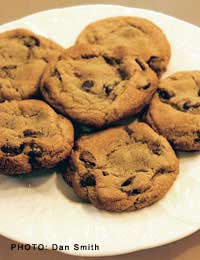 Cookie making is a great session to include in your children's' cookery group programme. Why? It includes some basic skills like weighing ingredients, sifting flour, beating butter and sugar, and using a rolling pin. It's also a great excuse to indulge their creativity. Supply a few dishes of sprinkles, coloured icing and sweets, and the children can take their rainbow-coloured creations home!
Teaching Some Basic Skills
So far, the children in your group have accumulated a good variety of basic skills: they've learned about chopping fruit and vegetables, watched yeast activate in warm water, and they've learned all about nutrition and balance. This session is an introduction to baking for pleasure - and the rewards are sweet!
We'd suggest making the large batch of dough as a group - giving tasks to the children as you go - and then splitting it into a number of smaller batches, for the children to flavour, roll out and decorate as they wish. At this point you can split the group into pairs and get them working alone.
There are several points that you should make time to explain during this session. Here's what your group will learn by the end:
Weighing Ingredients: Ask a couple of members of the group to help weigh out ingredients, choosing the older children. This is one of the most important jobs to get right. Ask the children what might happen if you used too much butter or sugar (and demonstrate with a small batch, if you like!).
Creaming Butter: This is a hard job, so you may want to share it between partners or a small group. Children of any age can have a go at this, and will take pleasure in seeing the butter change colour as it becomes aerated. It works this way because the sharp sugar 'cuts' into the butter, making tiny air pockets, which will then be preserved by a layer of fat during cooking.
Sifting Flour: It is second nature to adults who bake at home, but sifting flour is more exciting for young children. Make sure you explain why the flour is being sifted - the reasons are two-fold. First, you are getting rid of lumps, and second, by raising the sieve over the bowl , you'll get more air into the mixture. That's why sifting makes a difference to the lightness of the end result. After sifting flour, other ingredients must be gently incorporated so that air isn't beaten out.
Using a Rolling Pin: For this part of the session, you can give every child a board and rolling pin, if equipment is available. Explain the importance of flouring the board thoroughly and show them how to roll, rotate, and roll to achieve an even finish.
Exciting Flavour Variations
Cookies can very easily be varied to taste. Bring some flavourings - ordinary cocoa, orange cocoa, ground almonds, vanilla extract, and chilli flakes if you're brave. For dry ingredients, remove a tablespoon of flour and replace with a tablespoon of flavouring. For liquid additions, simply add a teaspoon with the butter and sugar. You can also bring ingredients to add, like chocolate chips, chopped nuts or even M&Ms! Split the finished dough into a few bowls and then ask the children what they should add to the mixtures.
Decorating and Icing
The children will enjoy rolling, shaping and decorating their cookies. Most recipes call for 10 minutes in a hot oven, and then you'll have to wait a bit longer before they can be iced. During this time, ask the children to help you prepare icing in different colours (a good opportunity to explore colour mixing and make deep purples and slimy greens!). Then split the icing between tables and when the cookies are cool, help the children to ice. Decorations are best added at this point so they stick to the icing as it dries.
Finally, don't forget to prepare some boxes or greaseproof wrap in which to wrap each child's cookies for taking home.
You might also like...