Making Healthy Snacks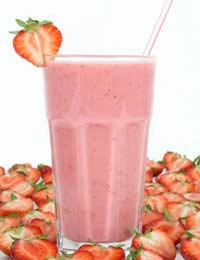 Pre-prepared snacks are useful for any parent to have on hand. For your next Cookery Group, why not hold some demonstrations on this topic? Giving parents and children some simple, healthy snack recipes ensures they're never caught out hungry again!
Making Snacks in Advance
A little preparation means you'll always have the wherewithal to rustle up something quick and delicious. Try keeping some of the following in the fridge or cupboard and you're never far from full tummies.
Fruity Mexican Salsa for Nachos
Ingredients:
1 punnet cherry tomatoes
1 small tin chopped pineapple
1 bunch fresh spring onions
1 red pepper
1tbsp tomato ketchup
1 shake Tabasco sauce (omit for young children)
2tbsp chopped coriander
1tbsp lime juice
Salt, pepper and sugar to taste
Dice or process the tomatoes, pineapple, pepper and spring onions into similar-sized pieces. If you have a small worktop chopper, this recipe is even easier. Turn them into a jar with the remaining ingredients and stir or shake to combine well. Try the mix, and add salt, pepper and sugar to taste. With a lid on, this salsa will keep for a few days in the fridge.
Snack Ideas: Use your salsa to spread over a plate of nachos – top with grated cheese and grill for a super-quick TV snack. OR spread a thin layer of salsa over a tortilla wrap, top with cheese or guacamole, fold, and toast on a griddle pan. OR spoon the salsa into a small bowl and use it as a dip for pitta bread, raw carrot and pepper strips.
Sundried Tomato Hummus
Ingredients:
1 can (400g) cooked chickpeas
1/2 lemon, squeezed
2 cloves garlic
1tbsp sundried tomato paste
Salt and pepper
Using a pestle and mortar, crush the garlic to a paste and stir in the lemon juice to obtain a smooth emulsion. If you have a food processor, pulse all of the ingredients to a chunky puree. If not, add the tomato paste to the mortar and blend thoroughly before adding half the chickpeas and mashing well. Add the remaining whole chickpeas and you're ready to serve.
Snack Ideas: Garnish your hummus with finely chopped tomato and coriander, then use it as a delicious dip for toast, crackers or crudités. OR add whole sundried or ordinary tomatoes, spinach leaves and pine nuts, and use as a delicious sandwich filling. OR use it as a baked potato topping for a hot snack.
Quick Snacking Seeds
Fast, healthy and sophisticated, this make-ahead snack is sleek enough to serve to dinner guests.
Ingredients:
1 cup mixed seeds (including pumpkin, sunflower and sesame)
1/2 cup cashew or almond nuts (optional)
1tbsp soft brown sugar
1tsp chilli flakes
1tsp dried rosemary
1tsp sea salt
Using a pestle and mortar, crush the chilli, rosemary and salt together to a fine consistency. Add the sugar and crush lightly. Heat a wide frying pan and sprinkle the seasonings evenly across the bottom. With the heat at medium, sprinkle the seeds and nuts evenly over the seasonings and wait until the sugar starts to melt. When it's melting, start turning the seeds in the seasonings – keeping the heat low enough to toast them evenly. When they're golden, turn the seeds onto a baking tray and leave to cool before putting into a bowl (to serve) or airtight jar (to keep).
Snack Ideas: These seeds are delicious all on their own, but you can also use them as a dry dip for flatbreads (known as 'dukkah') – put a bowl of olive oil alongside.
Quick Healthy Snacks
Here are some ideas for snacks that can be rustled up in minutes.
Quesadillas: Keep a packet of tortillas in the cupboard, cheese and salsa in the fridge, and try this variation on a boring cheese toastie. Spread salsa, cheese and chopped spring onions over the tortilla, then fold in half and put straight onto a hot griddle/frying pan. Toast both sides, cut into wedges and eat with salad.
Quick Fruit Smoothie: If you keep a banana in the freezer, you're never far from a nutritious smoothie. Chop the frozen (or unfrozen) banana and put it into a blender with a tablespoon of porridge oats (you won't taste them), a squirt of honey and enough milk to generously cover. Whiz until smooth and drink with a straw! You can vary this smoothie using almost any fruit in your house – pear, peach, strawberry and kiwi are all great.
You might also like...