Easy Recipes For Children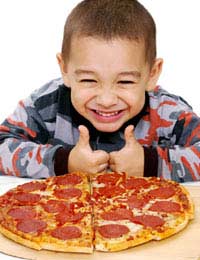 Don't do all the cooking for your kids – get them to help with food preparation and they'll be more likely to eat what's on their plate! Here are two easy recipes for children to try with grownup supervision. Hold a pizza party where the children do everything from kneading to topping – or just prepare the bases and let the children loose on the tops. If they're encouraged to try something else, test out our Custard Biscuits recipe.
Pizza Party!
Pizza is a great way to get the kids interested in their food – given the basics, they can get really creative with their dinner. First, you'll need to make the tomato sauce – this can be done the day before, and left to cool. Just soften an onion, two carrots and a piece of celery in a large pan for at least 10 minutes (on a low heat – don't brown it). Chop and add 500g tomatoes and stew gently for an hour or until thick and saucy. If your kids don't like lumps, put the sauce into the food processor before setting aside ready for the pizzas.
Next, Make the Dough...
Ingredients (makes 2-4 small pizzas):
6oz strong white flour
1tsp salt
1tsp sugar
3/4-1tsp yeast
1tbsp olive oil
100ml warm water
The easiest way to make this dough is to throw everything into a breadmaker on the 'Pizza' setting. But if you don't have one, you can make it by hand – dissolve the yeast in the warm water and leave to bubble. Weigh the flour and salt, then make a well in the middle before pouring in the oil and yeast/water mixture. Knead well for ten minutes then leave to rise for an hour or two. Roll out to make pizza bases and put them on a baking sheet ready for the next stage. If you leave them for another hour at this point, the pizza bases will be nice and risen by the time they go in the oven.
The dough will make 4, 7cm pizzas or 2, 15cm pizzas. You're ready to party!
Arrange Your Toppings on a Table:
Finely sliced peppers (red, yellow and green)
Diced bacon or pancetta
Sweetcorn and peas (tinned, or boiled)
Sliced spring onions
Baby spinach leaves
Artichoke hearts (from a tin)
Grilled chicken, shredded
Pineapple chunks (from a tin)
Diced mozzarella, grated cheddar and parmesan
Help the children to spread each pizza with tomato sauce, then let them layer up the toppings – encourage them to be generous! Everything will shrink down in the oven. Finally, bake the pizzas in a 180 degree (preheated) oven for 15-20 minutes.
Custard Biscuits Recipe
An easy biscuit recipe for the kids to try. You can make it in the food processor, but this recipe is a great way to teach your children some basic cooking skills.
Ingredients:
6oz self-raising flour, sifted
2oz butter, cubed
2oz caster sugar
2tbsp custard powder
1 egg, beaten
1-3tsp milk
In a large bowl, combine the flour, sugar and custard powder. Stir in the butter, then use clean fingers to rub everything together. You're looking for the mixture to reach a coarse, sandy consistency. Now pour in the beaten egg and bring the dough together with a spoon or your hands. Start adding the milk – mixing well after each addition – until the dough comes together well enough to start rolling it out.
On a well-floured board, roll the dough to about ½ cm thick and cut shapes to your liking. Bake in a preheated oven at 170 degrees C for 8-10 minutes, until light golden brown. Put them straight onto a wire rack to cool thoroughly. If liked, you can sandwich these together with buttercream.
COOKERY CIRCLE IS FOR SALE.
This website is for sale [more info].
You might also like...