Packing your Own Lunch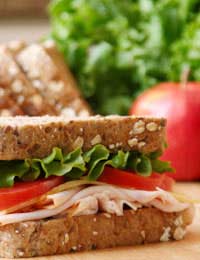 Don't have time for lunch?
We know what it's like when you're working hard: there's the temptation to 'just do this one more thing before lunch' and before you know it, it's the end of the day and you've missed out on lunch altogether! And made do with Mars bars instead! But something yummy in your lunchbox will give you a reason to make time!
Every supermarket and corner shop, not to mention all those stores that cater solely for the 'grab-a-bite' market, these days sells a wide variety of pre-packed sandwiches but it's so much better to prepare your own packed lunch. Not only is it healthier – you'll know exactly what's gone into it – but it's cheaper too.
We've got lots of ideas for your lunchbox. A packed lunch shouldn't be boring. Buy yourself a new thermos and a fun lunchbox (or you can use a sensible plastic container!) and get prepared.
Sandwiches
Whichever bread you choose it's best when it's fresh! Try a variety so you don't get bored.
Thickly sliced good-quality white
Wholemeal
Seeded
Granary
Pita
Baguette
Bagel
Wraps
Sandwich Fillings
The important thing to remember when making sandwiches is not to use anything too runny otherwise, when you get to lunchtime, you'll find a soggy mess in your lunchbox! But there are plenty of choices.
Cheese
An old favourite but still one of the best.
Farmhouse cheddar cheese with thinly sliced beetroot (now available in chilli marinade)
Farmhouse cheddar cheese with thinly sliced tomato, sprinkled with black pepper and a smidgin of sugar
Farmhouse cheddar cheese with fruity chutney
Farmhouse cheddar cheese and finely sliced Spanish onion (but you won't be popular if you're working in close proximity to anyone after that!)
Brie, sliced, with halved seedless grapes
Brie with bacon and rocket
Brie with sun-dried tomatoes
Brie with cranberry sauce
Mozzarella, tomatoes and a few basil leaves
Wensleydale or goat's cheese with roast skinned red peppers
And so on … use your favourite cheese and mix and match.
Meat and Fish
A wide selection of sliced meats is available from your delicatessen or supermarket, or use leftover home-roasted meat. Tinned tuna and salmon are excellent sources of nutrients. Add roasted peppers, chutney, lettuce, cucumber, tomato, mayonnaise, sweet corn, spring onions, apple, avocado, cream cheese – experiment and devise your own favourite filling.
Salad Bowls
Include a selection of salad ingredients on their own or with cold pasta, couscous or rice. Add some protein in the form of cheese, grated or in chunks, hard-boiled egg or chopped meat – left-over chicken is ideal. Mix with a little mayonnaise or take a small bottle of your favourite dressing in your lunchbox to drizzle on just before you eat.
Take small pots of hummus or taramasalata along with a selection of chopped raw vegetables for dipping. Or stuff a pita full of lettuce, hummus, olives and roasted red pepper.
In the winter, make a pan of soup – carrot and coriander, vegetable, curried butternut squash – and divide into small portions. Freeze individually and then defrost overnight before heating in the morning and pouring into a thermos (already warmed by boiling water). Take a chunk of bread and maybe some cheese to go with it.
If prepared the night before, cover and keep over-night in the fridge. Wrap sandwiches tightly in foil or clingfilm.
Freeze an ice-pack or a small carton of juice and put that in your lunchbox before you set off and your salad or sandwiches will stay cool.
Store your lunchbox in a fridge if possible or keep your packed lunch in as cool a location as possible until it's time to eat.
For Afters
A sweet treat is usually welcome. You can buy healthier alternatives to chocolate bars or make your own - flapjacks, muffins, fairy cakes or fruit and nutty bars.
Finally, adding a piece of fruit will contribute towards your five-a-day as well as leaving your mouth fresh and clean. Try a small bunch of grapes, a slice of melon or one of the more exotic and unusual fruits now available.
You might also like...