Cooking with Fruit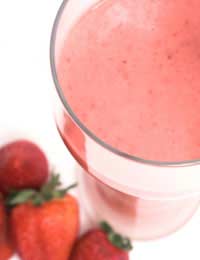 Everyone knows they should be eating five a day but how can we make fruit and vegetables more interesting? This session offers lots of stimulation for young cooks. Choose from our ideas, depending on the age and ability of your group, and have some fruity fun!
Running the Session
Choose a few of the ideas below and get the whole group involved in cooking them. You can either split into smaller teams or work together, asking different children to tackle different tasks. We've included easy no-cook ideas, as well as more challenging recipes using equipment like blenders and ice-cream machines.
Fruit Sundaes
If you're lucky enough to have an ice-cream machine – or you know someone kind enough to let you borrow it – then whipping up a batch of ice-cream is a great start to this cookery session. You'll need a table-top machine that will produce ice-cream in less than half an hour. All you need is a 500ml tub of good quality fresh custard (look in your supermarket cool section), a splash of vanilla extract and a 284ml carton of double cream. Whip the cream lightly and then fold in the custard and vanilla. This makes a delicious basic ice-cream, but you could also flavour it before or after churning.
You could turn it into a chocolate-orange ice-cream by adding 100g of dark chocolate (melted and slightly cooled) plus fresh orange chunks. Or a Raspberry Ripple, by pureeing raspberries with icing sugar and rippling through the finished cream. About some fresh strawberries, finely chopped and marinated in icing sugar before being stirred into the unchurned cream?
What's even better is using this vanilla ice-cream base for exciting sundaes. Chop up lots of different fruits and give the children the opportunity to blend sauces, caramelise chunks of apple, and try fresh berries to create imaginative sundaes.
Fruit Smoothies
Fruit smoothies are such great fun, and so easy to whiz up. Invite the children to make suggestions – the stranger, the better! You'll need a good selection of fresh fruit and juices (include mango and pomegranate juice), a peeler and a sharp knife. Peel, chop and whiz as the children call out their ideas – and pass around the delicious results! It's hard to go wrong with a fruit smoothie, and some of the weirdest combinations actually turn out well. Try adding a chopped carrot to an orange and mango smoothie for a wild colour!
Fruit Crumble
This cooked dish is easy to make in smaller portions and it's very child-friendly, especially if you use some frozen berries. Give each child a cappuccino cup or ramekin, into which they can arrange their chosen fruit – chopped apples or pears, blackberries and plums, or frozen mixed berries (available in the supermarket). For the crumble, mix 75g diced butter, 75g oats, 50g sugar, and 300g flour in another bowl. (This will top 6-8 crumbles.) Ask the children to take turns rubbing-in the butter, showing them how to lift the mixture high above the bowl and use their fingertips to keep the butter cool.
Fruit Fool
Look up some easy fruit fool recipes on the Internet and try making them with your group. You could make rhubarb, gooseberry or raspberry fool – or experiment with Eton Mess, which combines bashed-up meringues with whipped cream and fruit!
You might also like...