Reading Material for Your Group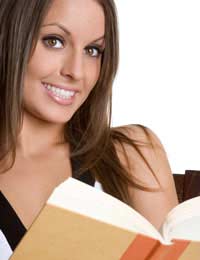 If you are looking for reading recommendations the best place to ask is your group. Why not arrange a Book Swap and lend out a couple of your favourites for a fortnight? Here is a list of recommended reading to expand your culinary repertoire. It may even give you an idea for a new event!
Suggested Books – Learning About Cookery
Complete Cookery Course by Delia Smith. She may be a cliché, but her Cookery Course is still an indispensable book for all home cooks. When you find yourself wondering how to make a quick Hollandaise, or what to do with the apples from the garden, turn to Delia. Nothing new-fangled here: just good old classics, simply translated and virtually foolproof.
Real Fast Food by Nigel Slater. Forget the 30-minute cookery books and buy this one instead. Instead of timed recipes it features ideas and suggestions for using up the old potatoes in the veg rack and the bits of Brie in the fridge. If anyone knows about real food it's Nigel. Genuine store cupboard rescues and umpteen variations on jacket potatoes – as well as sure-fire pasta success – make this book indispensable for those days when you don't feel like cooking.
New British Classics by Gary Rhodes. The recipes in this substantial book are on the challenging side: you'll find great twists on classic English, Scottish, Welsh and Irish dishes, ranging from the simple to the very difficult. It's a great place to start contemplating our own national cuisine.
How To Be a Domestic Goddess by Nigella Lawson. If you're interested in learning about baking, this is the first book to try. It's inspired a whole generation of cupcake bakers – written in an intimate, enthusiastic style, with deliciously easy recipes, this book is bound to go down in history as Nigella's classic.
Suggested Books – World Cookery
Ken Hom's Hot Wok by Ken Hom. Written to accompany his BBC television series in the mid-90s, Hom's landmark book covers the essentials of wok cookery. The recipes are easy to use and tinker with, making this one of the most accessible ways to get into the food of another culture. If you have a wok, or a favourite Chinese takeaway for that matter, get started with Ken Hom!
The Ultimate Curry Bible by Madhur Jaffrey. This is an introduction – for the keen cook – to Indian cookery, covering regional differences and offering more than 200 recipes.
Larousse Gastronomique. This is the one book that's on every chef's bookshelf. It's an encyclopaedia from France, with entries on everything from preparing a lobster to using up a gooseberry glut (Gooseberry Jam). It also features, of course, definitive recipes for French classics such as consommé, gratin, fruit sorbet and frogs' legs.
Simple French Cookery by Raymond Blanc. The French chef, and owner of Le Manoir aux Quat' Saisons, offers an attractive introduction to French cookery. From Moules Mariniere to Tarte Tatin, every classic is broken down with step-by-step introductions and plenty of sumptuous photography.
The Silver Spoon. This is Italy's Larousse – an encyclopaedic book packed with more than 2,000 recipes for Italian classics. Published in 1950, it's written in an accessible, straightforward manner, and it's perfect for Italophiles everywhere.
1080 Recipes. Spain's most authoritative food writer has put all her best work into 1080 Recipes. This hefty book is crammed with recipes for every ingredient. In print for almost 40 years, it's been a bestseller in Spain and is now available in the UK. As well as tapas it has suggestions for all the Spanish favourites.
Suggested Books – For Advanced Chefs
How to Make the Perfect... by Marcus Wareing. Joining the fray of Michelin-starred chefs writing books, Marcus Wareing (chef patron at the Savoy) offers this new book. But it's more practical than you might expect, providing expert tips on making things like roast potatoes extra-special. It focuses on more everyday recipes, giving a chef's perspective to allow you to refine your cookery on a day-to-day basis.
Recipes From a 3* Chef by Gordon Ramsay. This 'portfolio' style book presents 40 of Gordon's recipes – from Lobster Ravioli to Lemon, Raspberry and Basil Millefeuille. Forget the stroppy TV chef you think you know: this book comes straight from the Michelin-rated kitchen, and it lays down a real challenge to the competent home cook...