Running your First Cookery Group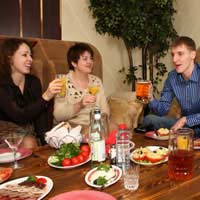 You're in charge now. When your group members arrive for their first meeting they'll be looking to you for introductions and leadership. Keep this first meeting short – it's your opportunity to meet the members, and for the group to talk about what they want from the meetings. Make sure you have plenty of activities planned, and also plenty of social time for members to chat. Use these suggestions to plan your itinerary and make sure there isn't an empty minute!
Introductions and Ice-Breakers
If your members don't already know one another, try some food-related ice-breakers to get the group warmed up.
Buddy ice-breaker: Break the group into pairs and give each pair a double-sided question card. This card includes the following: What's the first thing you ever cooked? Do you cook or wash up more often? Who do you usually cook for? What's your favourite ingredient? What's your most hated food? What do you like to drink? What's your signature dish? Would you prefer to drown in chocolate or vanilla ice-cream? When everyone has found out the answers from their partner, go around the room asking each person to introduce their partner.
Shake your own drinks: Set a table with ingredients for drinks and punch – but don't pre-mix anything. Instead put out some cocktail shakers, syrups, spices, tea and coffee pots, and invite people to blend their own punches, smoothies, cocktails and flavoured coffees.
Before the meeting, ask your members to bring along a recipe book that they enjoy cooking from. Then ask each person to talk a little about their book, and point out any recipes they have tried.
Mystery Ingredients: Bake beforehand (or ask members to bring) some nibbles and snacks with odd ingredients. Then ask members to taste and try to guess the ingredient. Try chilli-chocolate truffles, seaweed sushi wraps, or candied nasturtiums.
An Itinerary Plan
Don't panic – prepare some activities beforehand and you won't have to make it up on the spot.
Start your topic – whether it's 'Italian Cooking', or 'Packing a Lunchbox' – with some freeform ideas. Use a big white pad to write down people's thoughts and suggestions for your topic. Plan some questions beforehand to prompt discussion: things like "What's your favourite Italian dish?" or "What foods could your kids eat non-stop?" to get a good start on your group's opinions and feelings before you start talking.
If you don't have a set topic for the first meeting, start a discussion about proposed topics instead. Ask members what they would like to learn about, what they're good at, and whether anyone can lead a meeting on something they know well. Once you have a list of topic ideas, allocate each one to a different member and ask them to research it or find a speaker.
For the next week, ask members to cook something small for everyone to try! You could ask them for:

something fruity
something they hate
something with a hidden ingredient
something they've eaten on holiday.
That's All Folks!
Finally, wrap up the meeting by deciding on a topic for the next meeting. It is a little early to book guest speakers, so you may wish to hold a bring-a-bowl meeting for the second date. Decide whose house it will be at, and who will host (usually the owner) and speak (someone in your group, or someone you know). If any of the members have expressed interest in a particular topic, give them responsibility for researching a speaker to approach. Finally, make sure you have everyone's telephone numbers in case of any changes. You've done it – congratulations!
You might also like...