Advice for the Host Of a Cookery Group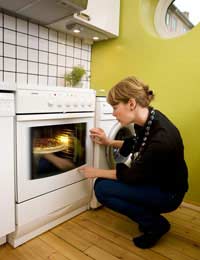 How do you make sure your cookery group meeting goes without a hitch? Here's our essential guide to hosting – whatever the occasion and however the evening goes!
Choosing a Theme
Usually the host of each meeting also picks the theme. You could choose a seasonal theme, a world theme (Mediterranean, Indian, or Mexican), or perhaps a freeform subject like "Grandma's Secrets". At the previous month's meeting, agree on a menu and allocate dishes to different members. You could also consider drinks, music and dress to complement your theme – depending how energetic your group members are! Also see our article on 'designing a menu'.
Hosting a Speaker
If you're hosting a meeting with a speaker instead of a meal, then you won't need to worry about half of the factors below. You will, however, need to find out if your speaker needs any special equipment – will they be doing any demonstrations or tastings? Plates, napkins and a food table may be required. Also check if (s)he has any handout materials, and arrange to get them copied and distributed.
Are You Ready to Host a Cookery Group?
Don't panic. It's easier than it sounds – if you adopt a method and stay cool. First of all, give yourself plenty of time to prepare. List all the jobs you need to do before the meeting, then stagger them so you have a few days' of leisurely preparation – rather than one afternoon of panicked flustering! Here are the main things you'll need to think about.
A welcoming hallway. The first five minutes are, as every interviewee knows, crucial! So, a quick vacuum and some scented candles will give your fellow members an excellent impression of your home. Make sure you have a place to put shoes and coats (move the family's pile of jackets upstairs for the day, if necessary).
Seats for everyone. Check how many members will be coming (ask at the previous meeting, if you can) and then count your chairs! If bottoms exceed cushions, borrow from friends, shift the coffee table and arrange your seats in a friendly circle or smaller groups.
Cutlery, crockery and pans for reheating and eating food. Make sure you have plenty of everything – and if necessary, visit local charity shops to pick up extra serving dishes. Also buy a pack of paper napkins!
Food Preparation
If you are hosting a Bring-a-Bowl meeting, where every member brings something different to the meal, it is very important to think about reheating, plating and serving. Your most difficult job will be overseeing the reheating of food. But look on the bright side – at least you didn't have to spend hours in the kitchen cooking it all!
To avoid space and timing issues it's a good idea to telephone every member in advance to find out what they will be bringing. Before the guests arrive, preheat the oven – at 160 degrees a meat dish will take around 40 minutes to fully heat up. (You can add vegetable dishes halfway through that time, to ensure everything is ready together.)
Think about the type of food you are expecting people to bring: noodles and saucy foods can be quickly reheated on the hob (although you should allow meat to simmer for a while to kill bacteria). If you are having soup, you will probably need to warm it in a pan before serving. Other foods will be served at room temperature.
Serving Drinks
It's a good idea to set up a drinks table, if you are expecting members to bring drinks, cocktail ideas, or homemade punch. When they arrive, people can leave their contributions on this table and other members can help themselves. Prepare in advance by collecting:
Enough wine glasses, tumblers and mugs for everyone present
A couple of large jugs, to be filled with water and ice ten minutes before the guests arrive
A bucket (if you can find one) in which to put ice, to chill white wine. (Red wine can be uncorked and left at room temperature.)
A corkscrew, knife, cocktail shaker (if you have one), stirrers (you could use chopsticks), lemons (unsliced), coasters, and napkins.
Calling the Meeting to a Close
It may seem somewhat insensitive, but if your guests show no sign of leaving, you may need to give them a little encouragement! Plan in advance how you will do this. You might raise a toast to the success of the meeting, thanking everyone for coming, and express your enthusiasm for the next meeting; or, if this seems nerve-wracking, ask a friend to start making 'going-home' noises at an agreed signal! Don't neglect this small point… nobody wants guests to outstay their welcome, no matter how wonderful the food!
You might also like...