Reading List for Children's Cookery Groups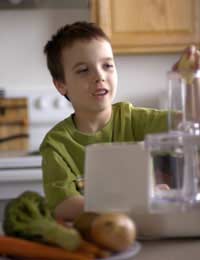 Once the children in your group have started cooking they will probably want to expand their knowledge. This book list includes recommendations for the children to use alone and with supervision.
Learning about Cookery
Take your Children's Cookery Group to the library for an afternoon. Get everyone registered and then check out their cookery books! Don't restrict them to the children's section – there might be some baking or learner books in the adult section, too. Encourage your group to take their time over choosing, making the afternoon a pleasurable one.
The following week, ask your members to describe their book and talk about the recipes they would like to try. You could vote on the recipes to choose one for group cooking. Here are some books to watch out for. If you're leading the group you might wish to invest in some of these.
Suggested Books – For Younger Children
These books are aimed at young children who are making their first attempts in the kitchen. They're perfect for adults and children working together.
Children's First Cookbook. by Annabel Karmel. This is a good early introduction to cookery, suitable for parents to use with children.
Kids in the Kitchen by Sara Lewis. This clear, useful book is published in conjunction with parenting magazine. It's designed to be practical and simple to use, with a list of required equipment along with the recipe ingredients.
The Children's Step by Step Cookbook by Angela Wilkes. This is another simple, well-illustrated manual featuring lots of delicious classics for children to make.
Suggested Books – Advancing Your Knowledge
There's a dearth of good cookery books for young chefs – so, once they've finished with the step-by-step style books, you may want to start them off with adult cookery books. Choose those with good pictures and straightforward techniques; bring some of your own, and encourage your group to browse them to choose recipes. You might be surprised by the level of complexity that your group can manage. And don't forget, after all, children need to be challenged.
Good Food 101. This series of pocket-sized books offers tried and tested recipes in collections such as Cakes & Bakes, Christmas Dishes, Simple Supper and Veggie Dishes. It's a nice, accessible format with straightforward recipes that have been tested in the Good Food Magazine kitchen.
Delia's Complete Cookery Course. For older children, and for learner adults, Delia's complete cookery manual is still the essential classic. It's a comprehensive collection of dishes that we've all eaten and enjoyed, with good explanations about making everything from mayonnaise to pastry. It's lacking in pictures (unless you buy the three-part re-release 'How To Cook') so it's suitable for keen readers only. It makes a good reference book to have around.
Hamlyn All-Colour Food For Kids. Although it's aimed at parents, this bright, colourful book is full of enticing recipes. Each one is clearly laid-out with preparation times. There's an emphasis on healthy eating and balance, and the recipes are arranged by course so it's easy to plan a whole meal from.
You might also like...