Planning a Menu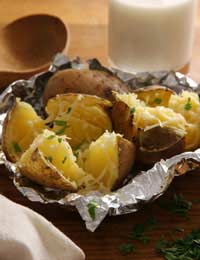 Planning a menu can be harder than it sounds! You'll want to get the right balance of meat vegetables and starchy foods; you'll need to make sure that the starters and puds flatter the mains; lastly, and most importantly, you have to ensure that everyone has enough to eat. Cover this topic with your Children's Cookery Group and help them find out what makes a great menu...
Foods That Go Together...
Here's a fun activity to introduce this topic. Prepare some flavours for your group to taste. Ask them to arrange the flavours together according to how they might be served. It's a good way to test your group's tastebuds too: will they put coffee and chocolate together, couscous and pesto potatoes? We don't just serve meals according to what tastes good, but also according to convention. So this exercise may even suggest a few new combinations that work beautifully. In this activity you could include:
Three pudding flavours – perhaps chocolate, rosewater and lemon.
Three drinks – strong coffee, mint tea, and real lemonade
Ingredients for three main dishes – couscous, pomegranate seeds, honey, soy sauce, sage stuffing, and parsley sauce.
Three side suggestions – cold potatoes flavoured with basil pesto (or just pesto); spicy chilli greens; and celeriac puree.After your group has tasted the flavours and talked about what would go together well, discuss their final decisions. Talk to members who thought that the flavours could be combined differently. Next, discuss the factors that will influence your menu.
Balanced Flavours for your Tastebuds
Our taste buds recognise four sensations: bitter, sour, salty, and sweet. A good dish has a fine balance of all four – anything too strong will bewilder the taste buds! It's estimated that up to 75% of 'taste' comes from our sense of smell – your nose tells you a lot about the food before you even open your mouth.
Cultural Combinations
When it comes to planning menus, every country has its own cultural traditions. In the UK, we would probably never serve marshmallows with turkey, but Americans do just that on Thanksgiving Day. Talk to your group about their own traditions at home: what are their favourite breakfasts, lunches and dinners?
Our national traditions spring from our natural produce and the harmony of the seasons. In the summer we drink punch spiked with cucumber and basil; in winter, we eat thyme-roasted potatoes and sage-stuffed chicken. In other countries, different vegetables and spices are combined according to what grows when. If you want to try something a bit different, you're free to mix and match from different cultures – just make sure that you taste them and see if they work.
Nutritional Balance
Finally, refer to our article "Designing Your Menu" to read about nutritional guidelines, and discuss them with your group. It's a good idea to bring along a large copy of the 'Eat Well' plate. According to that, around a third of your plate should consist of fresh vegetables, another third should be potatoes, rice or pasta, and only 12% should be protein (meat or pulses).
Plan Your Meal!
You're ready to plan your own meal! Talk about favourite foods and think about how you can combine them. Taste flavours like soy sauce and honey to see what will work on your plate. Draw a diagram showing your chosen dishes and finally calculate how much you'll need to make. Now it's time to go shopping....
You might also like...